Summer Fun: Davidson-Arabia Mountain Comes Alive With Activity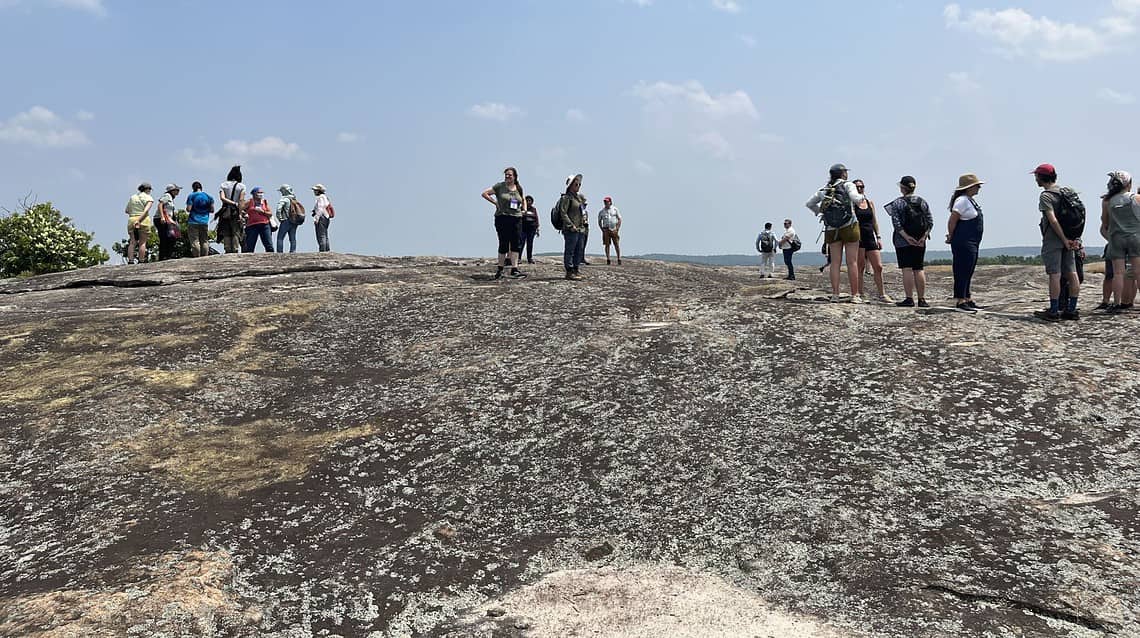 Since the end of May, the Davidson-Arabia Mountain Nature Preserve has hosted local charities, international conference excursions and the staffers of big-name politicians.
Ahh summertime: the season of cicadas, sweet tea on the porch and long, busy days at the Davidson-Arabia Mountain Nature Preserve. Bustling summers are nothing new at the mountain preserve but this year has been an exception. From local charity events to international conferences, the solid granite monadnock known as Arabia has been an attractive destination for many groups in the last two months. Here's a midsummer look-back at some of the highlights:
YESS Foster Walk & "A Long Walk H.O.M.E."
The monadnock summer kicked off with two similar charity events at the preserve: the YESS Foster Walk on 5/20 and "A Long Walk H.O.M.E." on 6/10. Youth Empowerment Success Services (YESS) and Helping Oppressed Mothers Endure (H.O.M.E.) are philanthropic enterprises founded by two charismatic Black women leaders in our extended heritage area community: Carolyn A. Watson of H.O.M.E. and Ebony Harris of YESS.
"I'm humbled and inspired by the incredible support we received at our 7th annual Foster Walk event," said YESS CEO Ebony Harris. "Together, we have taken a powerful step towards creating a brighter future for young adults transitioning out of Georgia's foster care system. With $6,462.75 raised and 54 registered attendees, we're well on our way to achieving our $10,000 goal."
These events had many things in common. They featured 5K walks (in the second case, a walk/run) from the Davidson-Arabia Mountain Nature Center to Chaparral Road and back; large community gatherings with food, music, DJs, local sponsors, and guest speakers; and both were held to support worthwhile causes.
"Our staff, participants, sponsors and volunteers are always thrilled to experience the joy of this beautiful and peaceful one-of-a-kind nature trail and this year was no different," said H.O.M.E. founder Carolyn Watson. "Thanks to an amazing staff of park Rangers, our time was well spent walking, running and dancing around the park. Over the years, we've hosted from 30 participants to almost 100 who support our efforts to bring awareness to single mothers and children facing hardship."
Conference for the International Society for Economic Botany and Society of Ethnobiology
Two big international organizations, the Society for Economic Botany (SEB) and the Society of Ethnobiology (SoE), chose Atlanta to hold a joint conference from June 6-10. Like most major conferences, there was an outdoor excursion planned and Arabia Mountain was the choice. On Wednesday, June 7, several dozen conference attendees bussed out to the Arabia Mountain Nature Center to begin a hike with Preserve Manager Robby Astrove.
"They enjoyed seeing the unique outcrop ecology—not every place has that," said Ranger Astrove. "I also spoke about the challenge of balancing Preserve protection and our sensitive plant populations with people, recreation, and impacts."
The group who hiked Arabia Mountain that day consisted of ecologists, land managers, geographers, and anthropologists from across the globe including folks from Canada, Japan and Nepal. They admired local flora like blackberries and persimmon trees and at Arabia's crest marveled at the vista, an uninterrupted 360-degree view of greenery.
"So many people commented on our tree canopy," said Astrove. "I don't' know if they were speaking to just our National Heritage Area of the larger Atlanta Metro area, but we have the most canopy cover of any major American city. That is true."
A Visit From Senator Jon Ossoff's Staffers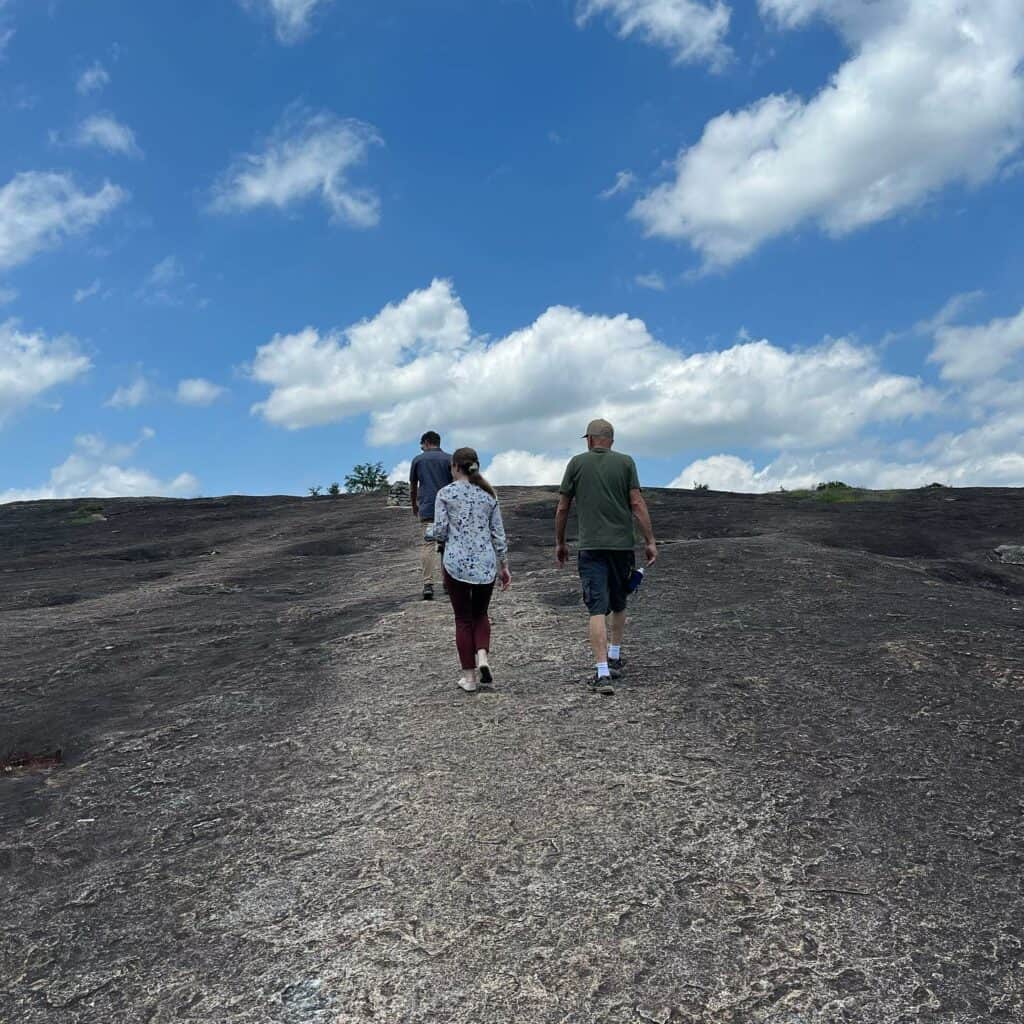 A tour was arranged for two of Senator Jon Ossoff's staff: Legislative Director Anna Cullen and Legislative Correspondent Caroline Li, both Georgia natives. Back in February, Arabia Alliance crew travelled to Washington D.C. to meet with Li and other Georgia elected officials and their staff about the passage of the NHA Act. Li and Cullen happened to be in Atlanta and wanted to see the mountain they'd both heard so much about from their boss.
"This is a very special place for the Senator," said Cullen. "This was one of his spots growing up. He came out here a lot and loves it."
Arabia Alliance Executive Director Revonda Cosby personally led the one-hour tour up the mountain and back. Both Li and Cullen were impressed by the otherworldly landscape and the quietness and tranquility of an area just twenty minutes outside Downtown Atlanta. 
"Our federal partners and their committed state/local presence really help solidify a better understanding and support of National Heritage Areas," said Cosby about the visit. "Senator Ossoff gets what we do as an NHA and he does the work to bring resources to outdoor recreation in Georgia."
Looking Ahead
It's only midsummer, and there's plenty more in the days ahead. Visit the mountain's website for more details and also check out the Arabia Alliance's events calendar.