Pride Profiles: Arabia Alliance Executive Director Revonda Cosby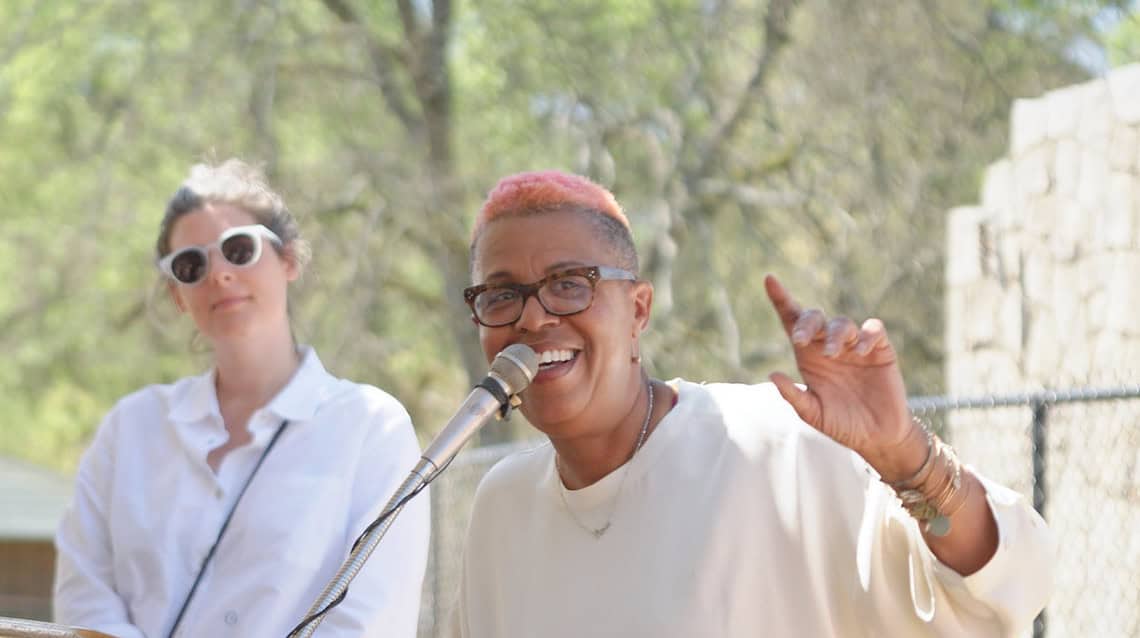 As the first Queer Black Director of the NHA, Cosby has prioritized inclusivity and LGBTQ-friendly events and programming.
Arabia Mountain has always held a special place in Revonda Cosby's heart. The first Queer Black Executive Director of the Arabia Mountain Heritage Area Alliance, she can still remember her initial trip up the mountain in 2008. "It was the first place I got to experience as an employee of the DeKalb County Parks and Recreation Department," said Cosby. "They gave us a list of all the parks and they suggested we get to know them. So I drove straight out to Arabia and I hiked to the top of it that day with Ranger Jim and I was blown away that A) I didn't know it existed and B) that it was so close to a big urban city. I never thought I'd come to work here."
Rock-Solid Leadership
Flash-forward a decade and that's exactly what happened. In 2019, Cosby became the Executive Director of the Arabia Alliance, the nonprofit organization that manages the national heritage area (NHA). In her tenure, she has stressed inclusivity and LGBTQ-friendly events and programming. She also serves alongside Arabia Alliance Communications Manager Jeff Dingler on the Justice, Equity, Diversity and Inclusion committee of the Alliance of National Heritage Areas, which represents all 62 NHAs across the country. "That committee is so important," said Cosby. "To have allies in our office like my communications manager, who now co-chairs that committee, it's great."
Growing up as a Black woman in Knoxville close to the Great Smoky Mountains, Cosby saw the irreplaceable value of these heritage areas for African Americans, queer folks and other minorities "Pride is at the core of our values at NHAs," she said. "It's more than just getting on the Pride bandwagon. We put in place strategies, partnerships, tangible access and rights to all these areas across the country so that all feel welcome. That's the focus that we're going to hone and deepen as the Arabia Alliance in these next five to ten years."
Arabian Pride
As the executive director, Cosby has prioritized social media campaigns during Pride and a blog series about LGBTQ-identifying individuals in the NHA and attends events all month sharing the message about this national heritage area. She's also mulling an outdoor recreation Pride-friendly event to add in the future. "It's vital to human existence, this diversity, equity and inclusion," said Cosby. "There's no other way to coexist. Look at pollinator gardens as prime examples of why diversity, equity and inclusion is a must."
But it's not just the otherworldly beauty and inclusivity of the heritage area. Cosby, who's openly identified as a "happy lesbian, aka gay lesbian," since 2002, said she loves Atlanta and its history of embracing the LGBTQ community. "Atlanta received me," said Cosby with a warm smile. "It's the only place I visited in the South where nobody even asked if I was gay or bi or not. I've never been asked here about my sexual identity. They just put me to work."
Love Story
The story goes deeper than that. Cosby also met her wife in Atlanta—on Black Pride over Labor Day weekend. "I was at a club off of Riverdale Road," recalled Cosby. "She later told me that she stumbled into the wrong club with too many 'old people' in there for her but she figured they had a clean bathroom. And there I was." After dating for a year, the two tied the knot in Westbrook, Connecticut and now reside with their fourteen-year-old daughter and Revonda's mother in Tucker. Patrice is also a regular in the national heritage area, volunteering at events and other happenings.
"It's been a chance to get to do the work," said Cosby about leading the Arabia Alliance. "I wanted this to be the hardest job to quit and I mean that in the best way. To be able to tell these stories, and be outside and represent our culture, this is the South I grew up in. And this is my chance to shine in the South I grew up in."