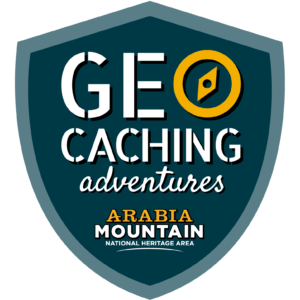 Geocaching is a great way to explore and discover the Arabia Mountain National Heritage Area. You'll learn about local history and catch some beautiful scenery while earning prizes in this modern-day treasure hunt. We've hidden nearly 90 geocaches across the National Heritage Area for you to find. 
What is geocaching?
Geocaching is a high-tech, outdoor adventure game where players use a handheld GPS device or smartphone to find hidden treasures. These "treasures" are called geocaches and are placed at unique places, often out of sight. Geocache containers come in all shapes and sizes and contain a logbook and sometimes special prizes for trading. Geocaching began in 2000 and has since gained widespread popularity with an estimated 5 million geocachers worldwide. There are currently geocaches on all seven continents and even on the International Space Station! Getting started with geocaching is easy. Simply go to geocaching.com and sign up for a free membership, then start searching for nearby caches! 
Geocaching in the Arabia Mountain NHA
With nearly 90 geocaches, we've got a lot of options for you to get geocaching in the National Heritage Area. Select a passport below to get started. 
The Geo-PATH is a special geocaching program that allows you to find geocaches around the National Heritage Area while earning trackable prizes. The GEO-Path is grouped into 4 series – Lithonia's Historic Hike, Arabia Mountain Adventures, Panola Mountain Pathways, and South River Stroll. Every series is geographically grouped to encourage you and other geocachers to explore the different sites around the National Heritage Area. Click here for your passport to keep track of your finds.
Complete the South River Stroll series and earn a Trackable Vernal Pool Pathtag.
Complete the Lithonia's Historic Hike wherigo and City Cemetery cache to earn a Trackable Glowing Pathtag.
Complete both the Arabia Mountain Adventures and Panola Mountain Pathways series and earn the Mountain Geocoin.
Past and Present Passages Passport
In honor of one of our favorite geocachers and dedicated volunteers, we created this series. Past and Present Passages is a fun way to explore some of the oldest and newest geocaches in the Arabia Mountain National Heritage Area. To participate, print out your Past and Present Passages passport. In each geocache you'll find a secret password that you'll need to record in your passport. Once you've found all 21 passwords you'll be able to collect a limited edition, trackable Geocoin! 
Complete all 21 caches and earn the Iconic Vista Geocoin. 
Our newest series takes geocachers off the beaten path around the Davidson-Arabia Mountain Nature Preserve and shares stories about the Preserve's history and natural wonders. Just like our other finds, each one of the 34 caches includes information about the area's history and natural environment. 
Complete all 34 caches in this series to earn a Diamorpha Geocoin. 
How to start your geocaching adventure and receive your prizes. 
Register your unique username at geocaching.com.
Print out your very own Arabia Mountain NHA Geo-Path Passport, Past and Present Passages Passport, and Lands Less Visited Passport. This will help you keep track of all your geocaches.
Write down the password (found in the logbook at each cache) and the date you found each geocache. Remember to log your geocache finds in your passport and on geocaching.com.
Once you've completed a prize series, scan and email your passport or mail it the Arabia Alliance office.
Allow 4-6 weeks for delivery of your trackable prize.
Have questions? Have awesome pictures you want to share? Want to tell us about your amazing experience? Email us.
---