Juneteenth Storytelling Festival at Bruce Street: A Photo Recap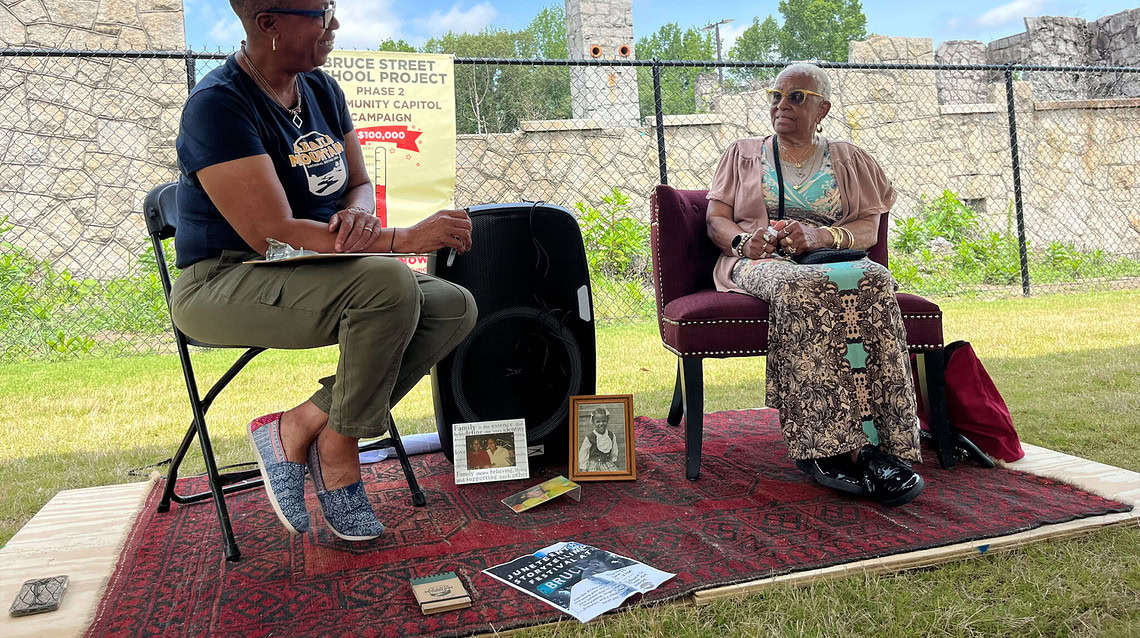 The Juneteenth Storytelling Festival featured former students and alumni of the Bruce Street School sharing oral histories with the community about the historic schoolhouse.

The community once again reunited at the Historic Bruce Street School (BSS) ruins on the afternoon of June 15. Although stories of the past have always been a draw for heritage area visitors, at this event storytelling was the main attraction. A large tent sitting on the lawn of the Bruce Street School grounds shielded from the sun an audience of over 70 people who gathered to speak and listen and learn. Locals who attended the old school, which has sat in disrepair for decades, shared their experiences about getting an education in Lithonia and the significance and difficulties of that for African Americans at the time.
Stories Under The Tent
Upwards of 70 attendees visited the Bruce Street School on this day from noon to 3pm, and many of them pitched in with their own recollections. The day's agenda was simple: After an introduction of Alliance members and partners, Executive Director Revonda Cosby asked the audience questions pertaining to the school, and, in a town hall-like fashion, any audience member could speak up and participate.
"History is very important," said Allene Harper, an outspoken graduate of BSS. "You cannot survive without history. You gotta know where you came from. It may not matter to you, but it matters to someone else." 
There were many positive memories of the locally grown and prepared cafeteria food. "We were given free lunch, and for some of us that was the only meal we got," said former Lithonia Mayor Marcia Glen Hunter. "So at least we could eat, and be alert and learn." However, when Hunter was asked about integration, she had a different tone. "We lost sight of our African culture," she said. "We were brought here as slaves. And the one thing that bothers that we don't teach our children their heritage."
Overall, a broad range of experiences was shared, compared and contrasted. And of course, the attendees were able to get a deeper glimpse into the intimate history of the Bruce Street School by hearing from the former students, many of whom are now senior visitors at the neighboring East DeKalb at Bruce Street Senior Center.
Each attendee was also entered into a drawing for one of three storytelling-themed prizes, all of which encouraged further sharing of stories beyond the event.
And New Stories Too
With the mission of justice, equity, diversity and inclusion a priority of the Bruce Street School Revitalization Project, people from all around the area were welcomed and encouraged to attend. Young Zion, an Arabia Alliance volunteer, eagerly shared a story that he came up with that afternoon about a high school that integrated both cats and dogs, allowing them to celebrate their differences and similarities. He brought his own chalk illustration as well!
What's A Gathering Without Good Food?
Food has consistently shown itself to be the glue that keeps people together. Thanks to a local mobile griller (who said his father also attended the old stone school), attendees were able to enjoy a selection of delicious barbecued meats prepared just for the event, including ribs, chicken, and sausage plus corn on the cob. The sight of the grill line (and surely the aroma) attracted several passersby and residents of Bruce Street who were previously unaware of the gathering. One woman from this group was shocked to discover her mother's photo on an informational banner about BSS graduates. "I knew my mother went to school here," she said, "but I didn't know her picture was right there."
Stories Of The Past Influence Stories Of The Future
Although many of the speakers at the event attended different schools in different places at different times, a significant amount of overlap in content, experiences and feelings was evident when taking the wide range of responses and stories told that day. Perhaps greatest of all was a shared fondness for the past and the memories produced by it. When shared, history keeps people together and allows them to work with each other to ensure a better future for generations to come.
*The Arabia Alliance is currently raising funds for the Bruce Street School revitalization project, which will transform the school into a multi-use community events space. Please click here to donate to the restoration of this historic site.