Monadnock Madness – What's that?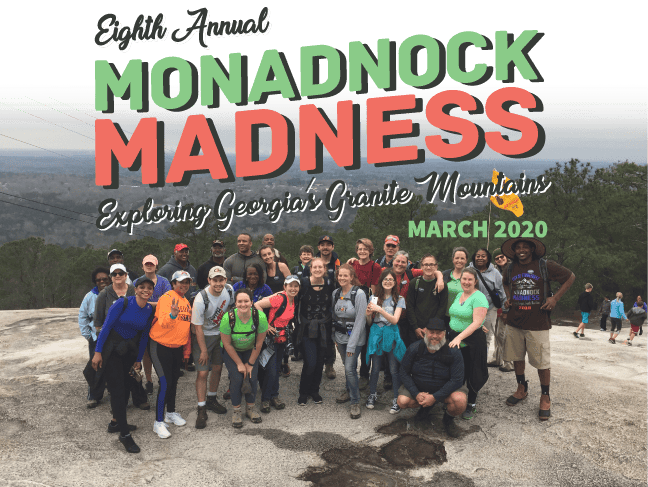 Every year, we celebrate the major Atlanta-area monadnocks – Arabia Mountain, Panola Mountain, Stone Mountain and (for the first time this year) Kennesaw Mountain – with a month-long series of events called Monadnock Madness. This outdoor extravaganza includes mountaintop yoga, photography workshops, and the Triple Hike Challenge, in which hikers summit all three monadnocks in one day! Along with these main events, there are dozens of other hikes, workshops, and festivities to enjoy. Here's a quick guide to the event:
Monad-what?
A monadnock is a stone outcrop that rises out of the surrounding landscape. Monadnocks form as a result of one type of rock – in our case, granite and migmatite – eroding more slowly than its surroundings. This erosion leaves the rock face bare and exposed. Monadnocks are central to the Arabia Mountain National Heritage Area. You can discover more here.
It's just a bare rock, right?
Wrong! Monadnocks are host to a variety of wildlife and some vibrant ecosystems. Lichen is one of the primary successors in this ecosystem, meaning that it is one of the first organisms to grow on and break down the rock face. The growth of the lichen and small amounts of erosion result in solution pits and vernal pools. Solution pits are small impressions on the rock face filled with soil; these periodically fill with water to create vernal – or ephemeral – pools. The entire monadnock ecosystem relies on solution pits for life.
In the solution pits' shallow sandy soil and the vernal pools' water live a variety of plants and animals, from the vibrant red diamorpha flowers to the federally threatened pool sprite and the endangered black-spored quillwort. Ongoing efforts to protect these species and support their natural habitat are a part of the work of Arabia Mountain rangers. Frogs and salamanders make use of the vernal pools as well; tadpoles and larvae grow in the spring and summer and amphibians rely on the vernal pools for refuge from the summer heat. Ultimately, the solution pits can become rich enough that larger plants such as cactus and trees can grow there as well.
These habitats are beautiful but also fragile, so please exercise caution and avoid stepping in vernal pools and solution pits when hiking.
How have humans affected these monadnocks?
All three monadnocks (Arabia, Panola and Stone Mountains) were affected in slightly different ways by human activity. Stone and Arabia Mountains were both quarried during the 19th and 20th centuries. Arabia Mountain granite, a mixture of granite and gneiss called "migmatite," proved especially useful for construction.
As a result, Arabia Mountain granite was sent all over the world and used to build structures such as the US Naval Academy in Annapolis, MD and the Brooklyn Bridge in New York City. As you walk through Davidson-Arabia Mountain Nature Preserve, you'll see the remains of the quarry operations that took place there. In fact, it was the Davidson family that owned the quarry and who donated the land to DeKalb County to create today's greenspace.
Panola Mountain has a different story. With a slightly different geological composition than Arabia and Stone Mountain granite, Panola was never quarried on and industrial scale and today, Panola Mountain State Park carefully preserves this pristine monadnock ecosystem. The conservation area is only accessible with a guide from the State Park. That's another great reason to take part in the hikes during Monadnock Madness!
This sounds great! How can I participate?
Take a look through our events and decide what you want to do – we've got several dozens of events occurring throughout March! Complete the "Hike as you Like" option or join a nature photography workshop, mountaintop sunset yoga session, or try the geocaching challenge!
Check out our full events calendar here.
This March, the monadnocks are calling. Come explore Georgia's granite giants!