Uncovering Family History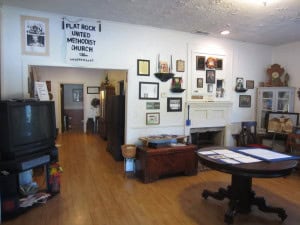 Retracing African-American roots can prove difficult due to lack of documentation and incomplete records. However, many useful resources are available to help you track down your family history.
The Arabia Mountain National Heritage Area features a useful resource of its own, the Flat Rock Archives, which is dedicated to the preservation and research of the African-American community in Flat Rock. The community dates back over 150 years, making it the oldest African-American community in DeKalb County. The Archives' collection consists of genealogical records, historic photographs, and other records spanning from the slave era to the Civil Rights Movement.
Johnny Waits, President of the Archives, says doing the leg work is worth the effort: "Unlocking the secrets of your past can be richly rewarding and you can also help fill in pieces of the puzzle for others who are still searching." Mr. Waits is also available to assist with family research. You can meet Johnny and explore the Archives and a local slave cemetery during a special tour on February 15th. For more information about the Flat Rock Archives, please visit flatrockarchives.org.
For people starting research on their own, there are a number of 20th and late 19th century sources, such as birth records and the U.S. Censuses. However, genealogists refer to 1870 as "The Wall" for African-American records. Free African-Americans were listed on the 1850 and 1860 U.S. Censuses, but the 1870 census was the first to include all African-Americans by name.
Before this time, there is far less documentation available about the lives of African-Americans. When census data is not available you can search Revolutionary War as well as Union rosters, plantation records, and documents associated with the Trans Atlantic Slave Trade. Birth records for those born into slavery can be found by location and date, rather than by name, in the property records of specific slaveholders.
The National Park Service's Soldiers and Sailors database provides information about Union and Confederate forces, specific regiments, battles, and prisoners of war. The database is accessed through nps.gov/civilwar/soldiers-and-sailors-database.htm.
Slave trade records, such as those found at slavevoyages.org  include data about specific voyages to Africa, the Caribbean, Brazil, North America, and Europe as well as a database with captive's African names and places of origin. Slave trade manifestos for specific ships are also available at the National Archives or digitally at archives.gov.
In addition to birth records and censuses, records associated with historic sites may also prove helpful when trying to uncover your family's past. For a great list of African-American historic resources in Georgia, including cemeteries, farms, schools, theaters, and more, visit the Georgia Department of Natural Resources Historic Preservation Division website at georgiashpo.org/historic/african_american.
One of the many resources for tracing African-American genealogy that can be found online are the records of the Freedman's Bureau, which was established to aid newly emancipated slaves. Records related to marriages, labor, crime, and land abandoned by Confederates can be found at mappingthefreedmensbureau.com and freedmensbureau.com. Researchers can browse documents related to the Bureau of Refugees, Freedmen, and Abandoned Lands according to the location of their ancestors immediately following the Civil War.
Other online resources for African-American family history can be found on Family Tree Magazine's website. These sources include links to lists of African-American coal miners, emancipation petitions, slave narratives, and more. 
One alternative to archival research is DNA testing. Many options exist for testing that offer different information with varying levels of detail. For example, tests from ancestry.com provide a general breakdown of what continents or countries your ancestors were from while africanancestry.com has the ability to pinpoint your maternal or paternal line's specific ethnic group within Africa.
Other useful contacts include:
Auburn Avenue Research Library on African American Culture and History
101 Auburn Avenue Northeast
Atlanta, GA 30303
Website: http://www.afpls.org/aarl
Afro-American Historical and Genealogical Society
P.O. Box 73086
Washington, D.C. 20056
Publications: Journal, AAHGS News
Website: http://www.rootsweb.com/~mdaahgs/
 African American Genealogy Group
P.O. Box 1798
Philadelphia, PA 19105-1798
Telephone: (215) 572-6063
Website: http://www.libertynet.org/aagg/
The Schomburg Center for Research in Black Culture
515 Malcolm X Blvd.
New York, NY 10037-1801
Telephone: (212) 491-2200