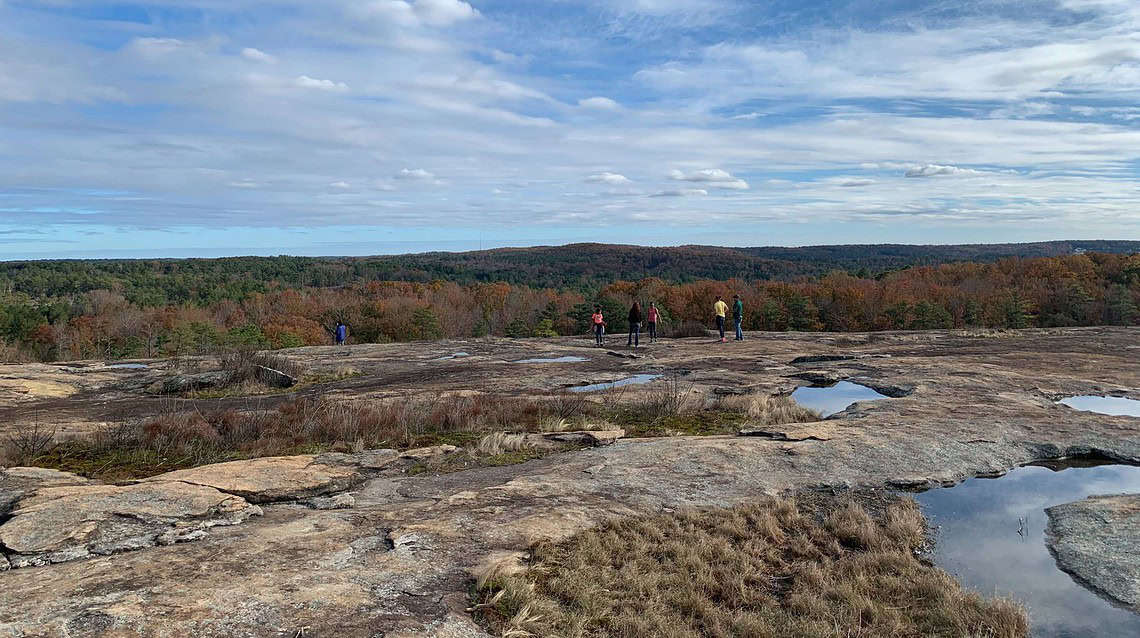 Remember: It is safer to be outside than in enclosed & crowded spaces, but COVID-19 infections are rising rapidly throughout the country. Please wear a mask, wash/sanitize your hands when possible, practice physical distancing, and stay home if you feel unwell.
COVID-19 has impacted parks and sites throughout the Arabia Mountain National Heritage Area. As we head into the Thanksgiving holiday, people are wondering where they can recreate safely with family. Check out our answers to all of your questions below!
What's open, and what's closed?
Atlanta Wild Animal Rescue Effort (AWARE) is CLOSED. 
Davidson-Arabia Mountain Nature Preserve is OPEN. Please note that public programs are canceled and Nature Center is closed, however. (See below for tips on where to park.)
Flat Rock Archives of Stonecrest, Georgia, is CLOSED.
Monastery of the Holy Spirit is CLOSED, but grounds and trailhead remain OPEN.
Panola Mountain State Park is OPEN. Some public programs (such as guided hikes) are available. You can learn more about what is available at the State Park here.
The Historic Gateway to the National Heritage Area, located at the Lithonia Woman's Club, remains open for visitors.
As you hike, remember that rare and endangered plant life lives in the innocuous sand pits and muddy patches of Arabia Mountain. Check out this video from Ranger Robby on how to hike while protecting the native plants of the National Heritage Area:
A note on parking at Arabia Mountain! Parking has been crowded at Davidson-Arabia Mountain Nature Preserve on the weekends. The outdoors has become a welcome respite for people during the pandemic, and we love that people are coming out and enjoying the National Heritage Area. As the two main lots (the AWARE lot at 4158 Klondike Road and the Nature Center lot at 3787 Klondike Road) get full very quickly, here are other spots where you can park that allow you to see places you might not have visited otherwise. 
All trailheads connected by the Arabia Mountain PATH trail system.
Right by the mountain:
1. Vaughters' Farm Lot (3366 Klondike Road) Just up the road from the Nature Center, Vaughters' Farm is one of the last dairy farm landscapes remaining in DeKalb County, though it was once the state's capital of dairy farming. 
2. Evans Mill Trailhead (4028 Evans Mill Road) Located on the western side of Davidson-Arabia Mountain Nature Preserve, Evans Mill Trailhead offers easy access to trails meandering through the forests and along rock outcrops. 
3. Polebridge Trailhead (6262 Browns Mill Road) This is another trailhead with easy access to the beautiful forests of the Nature Preserve.
A little further off:
4. Lyon Farm Trailhead (4431 Lyons Road; park in the cul-de-sac) The Lyon Farm is the oldest homestead in DeKalb County and a key part of the history of the Flat Rock community. 
5. South Rockdale Community Park (3909 East Fairview Road SW) Another connection point to the paved Arabia Mountain PATH trail, the South Rockdale Community Park includes trails that run through the forest and along the South River. 
Check out some more of our parking areas here. See you on the trails!