Vaughters' Farm Meadow Loop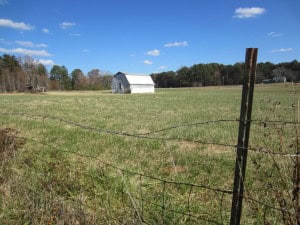 Looking for a new hiking trail? Panola Mountain State Park's newest trail is ready for you! The Vaughters' Farm Meadow Loop is a 1.25 mile trail which was completed thanks to a generous grant from REI.  This easy unpaved trail is perfect for a quick getaway and offers unbeatable views of the Vaughters' Barn, rolling hills, and grassy meadows.
The new trail can be accessed from the Arabia Mountain Heritage Area Alliance trailhead at 3366 Klondike Road (near #3 on the Arabia Mountain PATH (AMP) map). After parking, use the crosswalk to reach the AMP. Head towards Vaughters Barn and step off the paved trail. Go around the barn and look for a large wooden marker with an orange blaze. Follow the wooden posts around the meadow for a picturesque loop through the field. Step from DeKalb's urban present into its historic past as you meander through old cow pasture that is now filled with wildlife.