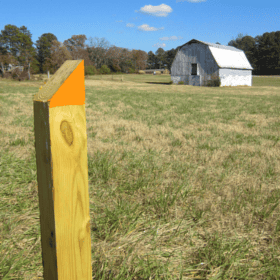 The metal-roofed barn on Klondike Road stops people in their tracks, especially when glowing red sunsets bathe the meadow in soft light and the hay catches the breeze. Now an iconic landmark, the Vaughters Barn is part of the rich history of  the Arabia Mountain National Heritage Area.
S.B. Vaughters had dreamed of owning his own dairy farm since childhood. Mr. Vaughters realized his dream when he purchased 144 acres of rural land just south of Lithonia in 1946. In less than one year, he had constructed his home (now the AMNHA headquarters) and the iconic dairy barn. 
The barn was used to house horses and Jersey cows. He was very proud of his cows; when others mocked them for being smaller than other breeds, he said they, "produced richer, higher quality milk worth up to five times the price of that produced by other breeds… They are the kind of cattle that pays the bills as well as clears the mortgage on your farm." The farm did well and had up to 100 head of cattle as well as a few mules, chickens, and hogs at its height. 
The Vaughters family grew. and four children soon called the farm their home. Mr. Vaughters said, "One of the other reasons I wanted to be on a farm was to raise my children. I think it's the best place in the world to raise children. Teach them how to work and how to do something for themselves."
The farm was the last working dairy farm in DeKalb County, but after raising his family, Mr. Vaughters was ready to retire.  After he sold his herd, he used the barn to house horses for his grandchildren to ride when they came to visit. In keeping with his traditions, the children worked in the family garden before they were allowed to ride through the meadow.
When it was time to sell the property, Mr. Vaughters wanted to make sure the landscape was preserved. Just before he sold the land to Panola Mountain State Park in 2002, Mr. Vaughters told an Atlanta-Journal Constitution writer: "Nearly all the rest of DeKalb County is covered up with homes and businesses. You can drive from Lithonia to Dunwoody and not find a piece of open land. I didn't want that here." 
Today, the Vaughters Barn is a beautiful visual reminder of the area's farming history and a dramatic landmark along the Arabia Mountain PATH. While it is not permitted for visitors to enter the barn, you can enjoy it from the new Vaughters' Farm Meadow Loop Trail.
To help insure the barn remains for future generations, the Georgia State Department of Natural Resources Historic Preservation Division has begun work on a Preservation Plan to stabilize the barn. Sean Baltzell, Manager of Panola Mountain State Park stated, "This is more than just a barn; it helps to tell the story of local history, and we'll do our best to preserve the Vaughters' legacy."