New Chapter for Historic Farm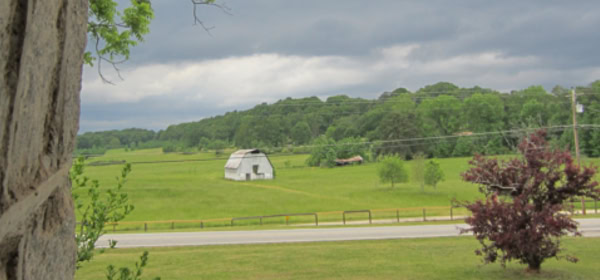 The historic Vaughters' Farmhouse on Klondike Road is again bustling with activity.  The Arabia Mountain Heritage Area Alliance has completed a rehabilitation for National Heritage Area operations. In conjunction with the PATH Foundation and Georgia State Parks, the property will soon have a new trailhead linking directly to 33 miles of dedicated hike/bike trails.
The idea to turn the mid-century farmhouse into the center of operations for the National Heritage Area was conceived nearly 10 years ago as part of the NHA planning process with the National Park Service.  S.B. Vaughters had witnessed many farms landscapes disappear with rapid development and wanted to see his Lithonia farm landscape preserved.  His was the last working dairy farm in DeKalb County.
 Just before he sold the property to Panola Mountain State Park in 2002, Mr. Vaughters told an Atlanta-Journal Constitution writer: "Nearly all the rest of DeKalb County is covered up with homes and businesses. You can drive from Lithonia to Dunwoody and not find a piece of open land. I didn't want that here."  His hopes were met and today, the white barn where Mr. Vaughters bred horses and raised daily cattle is an iconic image along the hike/bike PATH on Klondike Road.
Since the sale, the farmhouse – built in 1946 by Mr. Vaughters himself – had been vacant.  The Arabia Mountain Heritage Area Alliance signed a long-term lease with Georgia State Parks to utilize the farmhouse, but first had to rehabilitate the historic house as proper offices and community space. "Rehabilitating the Vaughters farmhouse was always part of the larger Arabia Mountain National Heritage Area vision. We're honored to help save a historic house and preserve an important landscape with our partner at Panola Mountain State Park," says Mera Cardenas, Executive Director of the non-profit Arabia Alliance.  "We look forward to making it the hub of the NHA for many years to come."
The care and craftsmanship Mr. Vaughters put into building the house is apparent.  It was framed with wood cut from the site and finished with locally quarried Lithonia granite. Many of the historic features were saved in the rehabilitation including:  two bookcase nooks recessed into the wall, the original red oak hardwood floors, the solid wood interior fir doors, the wood windows and the kitchen cabinets. Even the aluminum awnings protecting the windows and a cookie tin used to cover the stove pipe vent were saved.  "We wanted to update the house to make it a comfortable, usable space while retaining the quirky and historic features that make it distinctive," says Cardenas.