Amazing Camping 20 Min. Outside of Atlanta? You Bet!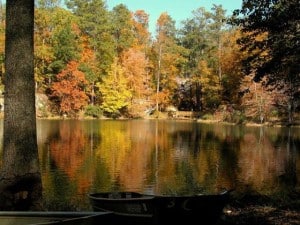 5 new campsites are open in Panola Mountain State Park! These sites are located next to peaceful Scout Lake and can be rented for just $15 per night.  Unplug and enjoy cool fall nights with a warm fire and hot coco! Up to 5 people can stay in each site and even your dog is welcome to join the fun!
Each site is located a short ½ a mile hike from parking, but miles from any city noises or distractions. The sites do not offer electricity or running water but they do have a composting toilet, picnic table, fire ring, a lamp post, and plenty of peace and quiet. Ready to start your camping adventure? All you need to do is call 770-389-7801 to reserve your spot. After your trip we would love to share some of your photos! Please email us with your shots and we'll post some of our favorites on Facebook.
While you are visiting Panola you can explore the new sections of Arabia Mountain PATH hike/bike trails. A stunning boardwalk overlooking Alexander Lakes, a visit though a historic barn, and a serpentine bridge all await your discovery!  If you plan your trip during a ranger hike you could also see rare plants and sweeping fall views from the top of Panola Mountain.