30+ Miles, Endless Adventure 
The Arabia Mountain PATH (AMP) is a 30+ mile recreational trail located just 20 minutes east of Atlanta.  Walkers, cyclists, and joggers share the multi-use trail. From the first mile AMP was designed to hug the landscape and take you past historic landmarks and stunning vistas. Each curve tugs at your feet and beckons you to find out what surprises lie beyond the next bend. Ready to go? Download the interactive map below and come explore!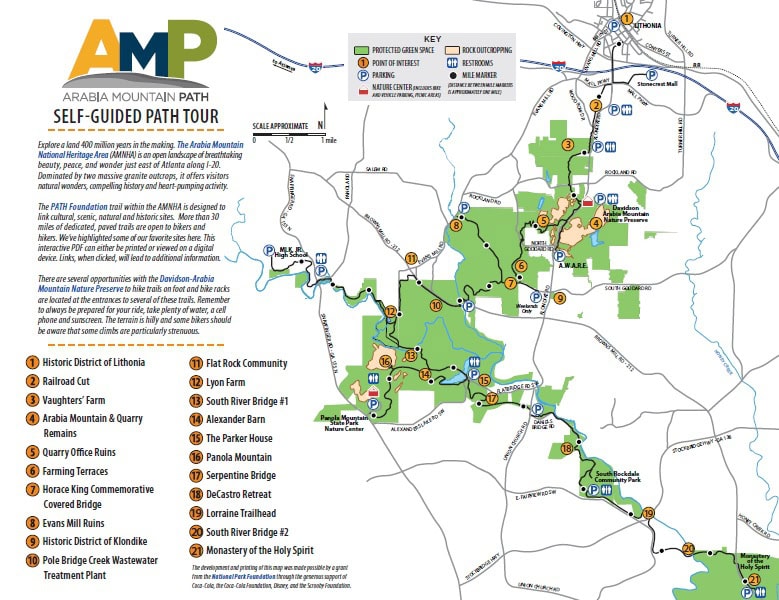 What will I see? 
The AMP was specifically designed to link the historical, ecological, and cultural landmarks of the Arabia Mountain National Heritage Area. Highlights included the lunar-like landscape of monadnocks, the oldest homestead in Rockdale County, and granite ruins. Use our interactive map to see all 21 must-see sites along the AMP.
Do you have to pay to use the AMP?
You can access the AMP from 13 free parking lots located along the trail. There is a $5 Georgia State parking fee if you park in Panola Mountain State Park unless you have a Georgia State Park Parking Pass.
Is this a rail-to-trails project?
No, so you'll see plenty of curves and hills as you explore.
What should I bring?
The trail meanders through woods, meadows, and state and county parks. The varied terrain can be challenging so bring plenty of water, good hiking shoes, and sunscreen. It is also a good idea to bring your cell phone. 
What types of vehicles are allowed on the AMP?
No motorized vehicles are allowed on any PATH Trial except for for motorized wheelchairs. However, any non-motorized vehicle with wheels is allowed. Examples include bikes, strollers, rollerblades, unicycles, and scooters.
Can I bring my dog?
Leashed pets are welcome along the entire PATH. Please remember to bring water for your pet and clean up after them.
Should I hog the trail?
No! The trail is clearly marked with yellow dashes and all users should stay on the right side of the line. This allows visitors to stay safe while enjoying the trail.
Who built the AMP?
The AMP was built by the PATH Foundation which has constructed many paved trails throughout Georgia. 
I have more questions. Who can I contact? 
There are many parks and agencies along the AMP. Please use this contact page to find the right group to contact. Not clear on who to reach? Contact us directly!