Black History – Profiles of Leaders in the Arabia Mountain National Heritage Area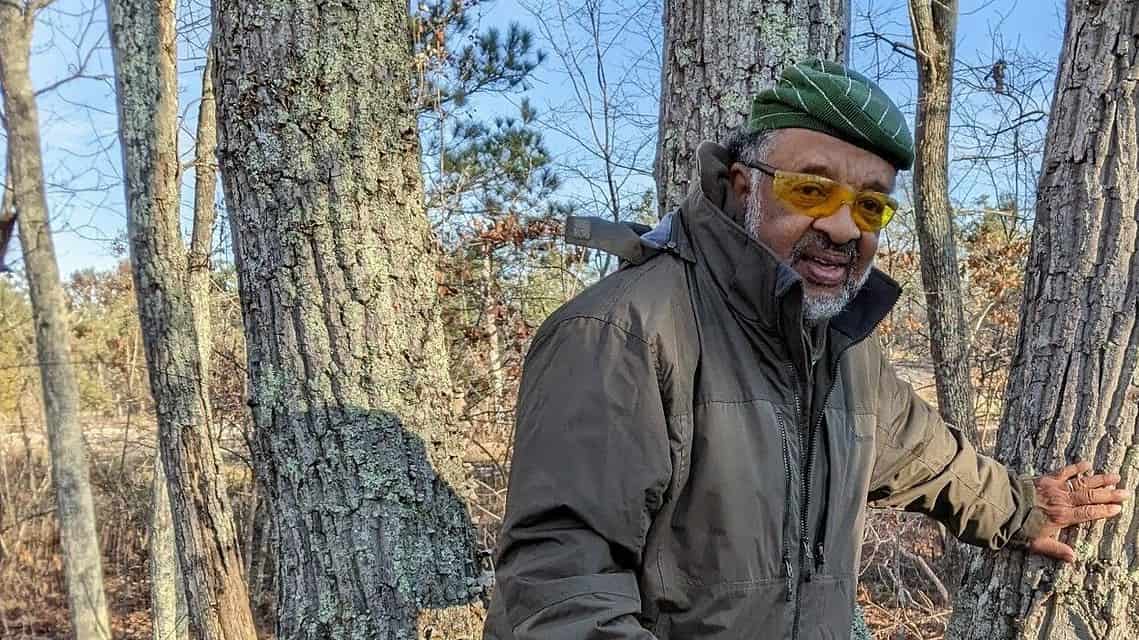 Tyrone Burkette: The Trailblazer Behind Many of the Heritage Area's Most Popular Hikes and Soft Trails.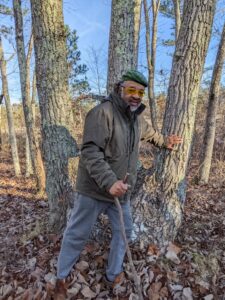 Tyrone Burkette first started volunteering as a trail guide around Arabia Mountain in 2001. More than 20 years later at the age of 77, he's still offering free guided hikes every Monday, Wednesday, and Friday at 9 am. "When I started my hikes, I could walk around and not see anybody for weeks," said Burkette. "Now it's hard to find a quiet place out there." 
Already retired, Burkette stumbled upon the local site of history, nature and culture driving down Klondike Road one day. When he saw the massive granite base of Arabia Mountain, he knew he had to check it out. "I got out of my car and started roaming through the woods," he recalled. "I was finding myself and finding wonderful things. So I tracked down a couple of people who'd be willing to do the same thing with me, and we started developing paths and trails." 
Becoming a Ranger with DeKalb County
After a couple of years of volunteer trail creation and maintenance, DeKalb County Parks and Recreation hired Burkette to do it professionally as a park ranger. He worked another eight years across the county before retiring from Parks and Rec. But he loved the work so much that he went straight back to leading hikes every week.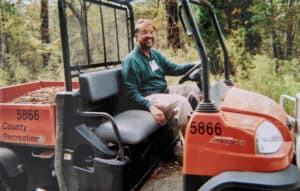 (Burkette as a park ranger with DeKalb County Parks and Recreation.)
Now, many of the NHAs most popular soft (or unpaved) trails can be traced back to Burkette and his volunteers including the Forest Trail behind the Nature Center going down to Arabia Lake (Burkette's first), to the Meadow Loop Trail by Vaughters Farm (a later addition). "We wanted to give people an option other than the PATH," said the Arabia Mountain regular, "something that's softer and better for hiking through the forest and backwoods. We have about 40 miles of soft trails now, and there are a lot of secret little spots out there that people don't know about it."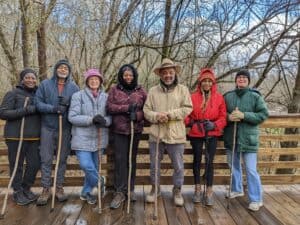 Didn't start as a ranger. 
Interestingly, the retired park ranger doesn't have a background in ecology or park service. Born in Detroit in 1945, he came to Atlanta in 1967 to attend the Interdenominational Theological Center. It was a volatile yet kinetic time in the city. "That first year of seminary school, I could go on my porch and look down the street and see where Dr. King lived," recalled Burkette. "We were in the heart of things. I had my first internship with the SCLC (the organization that Dr. King founded), and I worked in dire-needcommunities. I met many of the Civil Rights leaders. But I was a student pastor then and my focus was on studies." 
Burkette left Atlanta in 1970 only to return in 1991 to help develop charter schools as a regional director. He's excited to be offering his guided hikes during Black History Month, including his big 20th Super Bowl Hike on Saturday, February 11th at 9am at Wilburn Farm. Be prepared for a good seven-mile hike. "Years ago, we would hike 15-20 miles—this time we won't hike that far because we're a little older," laughed Burkette. "I've been acollege instructor, a pastor, a church executive, a college president. I've done a lot. And the best job ever is park ranger. I've taken thousands of people into the woods. Historically, Black folks are kind of hesitant to do anything in the woods—it has a negative connotation for us—but once they get out there and commune with nature, they really enjoy it."
Those interested in joining Tyrone Burkette for one of his hikes should call: (770) 484-3060.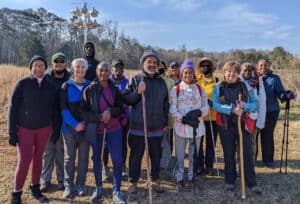 (From the Super Bowl Hike 2022 at Panola Mountain State Park's Alexander Lake.)