Keystone Bridge Connects 30 Miles of PATH Trails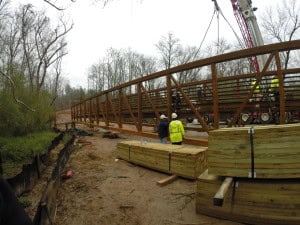 How do you cross a 500 foot span of rushing South River water? With ingenuity, willpower, and one gargantuan bridge of course! Over 10 years ago, work began on the 30 mile hike/ bike trail system in the AMHNA and earlier this month, one of the final milestones for the project was put in place.
The steel bridge was trucked down from Pioneer Bridges in Alabama in six segments. Once on-site, huge cranes were used to hoist them in place as they were joined together. The bridge was constructed with safety in mind and can even support the weight of an emergency vehicle if needed.
The bridge spans the South River near the Monastery of the Holy Spirit and is the longest PATH has installed on any of its trail systems.  The bridge promises stunning views of the river for bikers, runners, and walkers.  The paved PATH trail leading to the bridge is still under construction so you'll need to wait a few more weeks until you can see the views for yourself.
This breathtaking project was made possible by the hard work of the PATH Foundation and many partner organizations within the AMNHA. Access to the best views, gaining community support, and funding for the 30 mile trail system required years of coordinated effort and passion for the end goal. Pete V. Pellegrini, Project Manager for the PATH Foundation said, "The bridge is more than a crossing.  It represents the vision and commitment of PATH to connect all stakeholders in the Arabia Mountain National Heritage Area."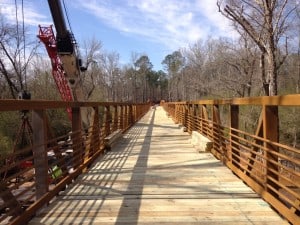 The trail system leading to the Monastery is expected to be completed by Memorial Day weekend and should be ready for visitors then. The AMNHA will host a celebration once the trail is open so make sure to follow us on Facebook for the latest updates! If you would like to explore the 25+ miles of open trail check out our self-guided bike map here. 
We would like to extend a special thank you to partners involved in the entire project including: the City of Lithonia, DeKalb County, Georgia DOT, Georgia State Parks, The Mall at Stonecrest, The Monastery of the Holy Spirit, and Rockdale County for supporting this fantastic community resource.