Monadnock Madness 2013 Recap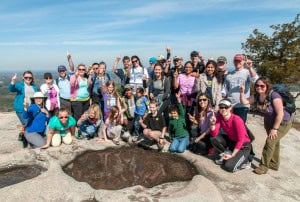 We want to thank all of our volunteers, sponsors, hikers, and partners who helped make our second annual Monadnock Madness event such a huge success! All who attended had great fun. Whether meeting new friends, learning about the stunning landscapes of Arabia, Panola, and Stone Mountains, or seeing new vistas, everyone had the opportunity to experience new things and conquer all three local monadnocks in one month!
We will be hosting this event again in 2015 so please join our mailing list see what's in store! Can't wait until next year to visit your favorite hiking spots? Check out our events page to see what's happening right now. Make sure to check out some of the pictures from this year's Monadnock Madness below and don't forget to join us in 2015!