Local monadnocks are rolling out the red carpet for you in April. Once each year a rare plant, diamorpha smallii, turns an eye-catching red before donning pure, white flowers. Although it is only a couple inches tall, this show-stopping plant blankets the mountain pools at Arabia with crimson. If you trek to the top of Panola Mountain you'll be treated to isolated pools in a sea of green lichens and moss. 
These beautiful plants are perfect for nature photos. As you hike on the rock outcrop, though, make sure to leave no trace behind you! That means avoiding stepping or impacting the solution pits, the shallow depressions where Diamorpha and other flowers live. Please "stay on the gray": step on the bare granite and avoid any puddles, pits and sandy patches. That way we can ensure that everyone enjoys these gorgeous blooms. 
Get your hiking shoes and camera ready and watch on our Facebook for photos and updates!
Where to see it
Arabia Mountain
Park Ranger, Robby Astrove says, "This is where the mountain gets to show off! Watching the metamorphosis from green to red to popping white blooms signals the rebirth of the mountain and is perhaps my favorite botanical explosion to witness.  For me, it provides the highest form of inspiration, identity, and interest on Arabia Mountain."  The biggest and brightest pools of red are visible along the Mountain Top Trail because this only plant thrives in open granite ecosystems. You can hike up Arabia from sunrise to sunset  every day so you'll have lots of opportunities to see the show.
Panola Mountain
This monadnock has never been quarried and it's undisturbed vernal pools have had plenty of time to fill with soil. This isn't an ideal place for diamorpha to grow. However, at the very top of the mountain, a few special  pools are bursting with this rare plant. To see them you'll need to join a guided tour. You can choose a morning or moonlight hike. Ranger Lieren says, "This ecosystem has been allowed to remain pristine and that is incredibly rare to see, especially so close to a major city like Atlanta."
Photo Tips and Tricks
The diamorpha is ready for its close-up and macro photography is an interesting way to capture the tiny world this plant inhabits. Many websites have tips for using fancy cameras but Leanna Lofte has made it easy to get top quality images just use your iPhone! Using an Android? Deepak Singh has you covered here. These quick tips should get you started: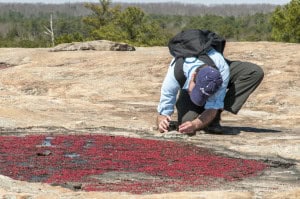 1) iPhones can't focus if you're too close to the subject. Leave 4 to 5 inches of space to make sure your shot is clear
2) Keep your subject in focus even if you need to move to compose your shot. Hold your finger on the screen at the spot you want to be in focus until the blue square pulsates. When you release, "AE/AF Lock" will appear at the bottom of the screen.
3) Stay out of your own light! When you are taking photos of tiny subjects it is easy to forget the big picture and block your light source.
Want some inspiration? Check out the photos below! After you take your own, please share them with us on our Facebook page!