Power Couple: Angel and Gazza Forte of Mermaid-Lion Entertainment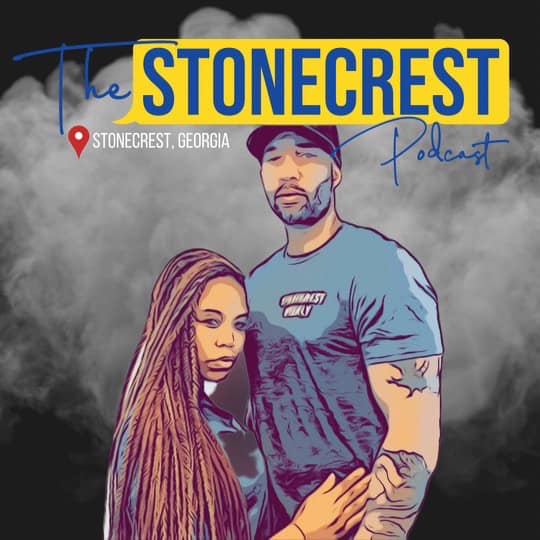 Mermaid-Lion Entertainment turns tales from Arabia Mountain, Stonecrest and Lithonia into awesome audio dramas.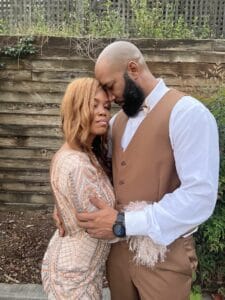 Angel Forte wasn't certain about true love. That is until she met Gazza, her now husband and producing/creative partner. "People talk about love at first sight," says Angel. "I don't know exactly what that means but I have to say that Gazza and I come pretty close." The two met in 2007 at an Atlanta housewarming party only a few months after Angel had moved into town from her home state of California. "We dated one year before marrying in a slapdash decision at the courthouse," laughs Angel. Clearly, it was a good call because 16 years later the couple hasn't missed a day of being in contact with each other. In fact, they've made communication their main business.  
Mermaid-Lion Entertainment Beginning
In 2020, the couple created the Stonecrest-based Mermaid-Lion Entertainment, a major producer of audio dramas (like hi-tech radio dramas), podcasts, and video productions with a strong focus on storytelling for people of color. They also offer their services to others: making audiobooks, offering audio production services, podcast consultation, podcast/documentary production, and even studio design. (Gazza's carpentry background has led to work in some high places, such as Tyler Perry's home and Atlanta studios, including all the trim and cabinets for the 2005 blockbuster Diary of a Mad Black Woman.)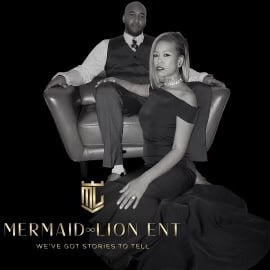 Real-Life Romance Story
Interestingly, the couple initially got into audio entertainment through Angel's desire to write romance novels. "I always thought that I wanted to be an author," she says, "I thought a great way to build an audience might be podcasting because it's a great way to reach a larger audience for a lower marketing dollar." Instead of a book, the two decided on an audio drama about their marriage journey. Angel had some experience in this field, having previously worked on "Durty Talk," a popular podcast series for men to express their emotions. When their producer fell through, Gazza, being a natural tech whiz and gadget geek, figured out the audio equipment and production process. They called that first candid audio drama series, "The Mermaid and the Lion." Thus the idea (and name) for the company was born as well.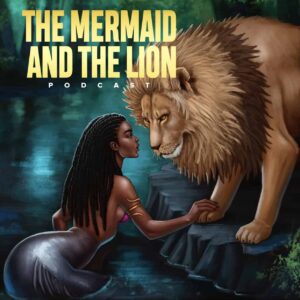 "It was the opportunity to create together," recalls Angel about that first series. "We were almost our own therapists because we had to work through this content and be intentional about what we were sharing, maybe to help inspire or help another young couple." 
And they certainly did inspire. Angel and Gazza dropped "The Mermaid and the Lion" in May 2022, and it reached 50K downloads/listens in the first six months and 250K in the first year. "Our life and love story grew so dramatically, which gave us favor in this space," says Gazza. "There are not a lot of independent people of color doing audio dramas like this." 
Creating Together Continues
Since then, the aural storytellers have launched three other shows including: "The Forgiven" a modern retelling of biblical scandals and scripture, "The Stonecrest Weekly" a hip and in-depth news thread on the East Atlanta community, and "Lyon & Lyons," documentary podcast produced in partnership with Flat Rock Archives and Arabia Mountain National Heritage Area Alliance about the decedents of  Lyon Farm. The hour-plus special includes a sit-down conversation between the descendant of the Lyon family (who enslaved people) and two descendants of the Lyons family (with an "s") who were enslaved until emancipation. After the Civil War, the Lyons became part of the Flat Rock community and other resilient African American communities in the area. 
The Fortes say it was a moving experience creating "Lyon & Lyons" in the old plantation house with its basement slave quarters. "We were honored and humbled to be able to share this story," says Angel. "It was meaningful to our community and hopefully it empowered someone who watched. We're looking forward to beginning podcasts on more places at Arabia Mountain National Heritage Area. We want to cover all twelve sites." The pair also recently included some drone footage of Flat Rock Historic Cemetery in their Stonecrest Podcast.
A New Series Planned
That idea is still in the works, but the creative couple already has another new series lined up, "Mind of a Slave." Launching February 22, 2023, this audio show will retell slave narratives from interviews conducted in the 1930s with formerly enslaved people. "Some of their thoughts on freedom versus being enslaved, it was at points shocking yet yielded subtle revelations about their experiences and mindset," says Angel. "I think these stories speak about where we are today. It reveals how much of a struggle it was for Black people to define who they were and realize their worth, all while striving to succeed under oppression."  
As for the so-called cardinal sin of never mixing business with pleasure, it seems to have worked out quite well for the Fortes. The secret ingredient? Just good old-fashioned love, a love the dynamic audio duo has channeled into their community and Mermaid-Lion Entertainment. "It enriched our marriage by learning how to work together and run a business," says Gazza. "You can imagine working together all day long and getting tired of that, but I think we really grew in that time and learned so much more about one another. It makes what we're doing now so much greater."