Vaughters' Farm Gateway Sign Dedication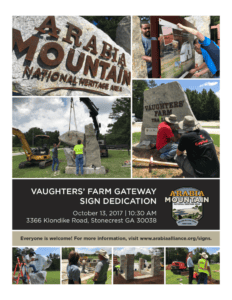 Join us October 13, 2017 at 10:30 a.m. as we celebrate the recently completed Arabia Mountain National Heritage Area gateway signs at the historic Vaughters' Farm in DeKalb County. The sign dedication will be held at the Vaughters' Farm Trailhead located at 3366 Klondike Road in the newly formed City of Stonecrest.
Gateway and sign concepts were designed to enhance the experiences of the thousands of tourists, adventure seekers and history enthusiasts visiting Arabia Mountain annually. When fully implemented, this professionally-designed, comprehensive signage program will welcome and direct visitors to venues of historic and natural importance, and highlight gateways to recreational activities.