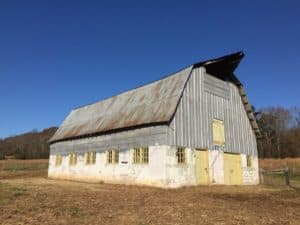 By Carla Parker for the DeKalb Champion.
The historic Vaughters' Barn and meadow loop trail on Arabia Mountain PATH has reopened following completion of the barn's stabilization project.
Arabia Mountain Heritage Area Alliance announced Dec. 12 that the stabilization of the "iconic" white-painted barn located adjacent to Klondike Road is complete. Last month, renovations began on the barn to repair the structure, which had water damage, structural issues and general wear and tear, according to the Alliance.
Arabia Mountain Heritage Area Alliance Communications Manager Zack Loehle said the cost of the stabilization project was approximately $200,000. Half of the funds came from the alliance and the half from the Georgia Department of Natural Resources.
The walls and roof of the barn were bowing outward and parts of the building had sustained significant water damage, according to Arabia Alliance. Workers repaired the interior, replaced windows, braced the roof and made other repairs.
Vaughters' Barn is surrounded by more than 140 acres of former dairy pasture that now serves as a wildlife habitat. According to Arabia Alliance, DeKalb County was at one point the biggest dairy producer in Georgia.
The barn was owned by S. B. Vaughters and held cows and horses. In 2002, Vaughters sold his farm, including the barn and family home, to the Georgia Department of Natural Resources. The land is managed as part of Panola Mountain State Park.
The barn is considered a central feature of the Arabia Mountain Heritage Area Alliance and a popular spot for photographs. Alliance officials said the barn will be used as an interpretive tool for people to learn about the history of DeKalb County.
"Vaughters' Barn is a key feature of Arabia Mountain NHA, and we are looking forward to further educating visitors about the natural and human history of this former farm," Arabia Alliance Executive Director Mera Cardenas said in a statement.
The renovations will also allow for guided tours of the barn to be conducted, which could not be done before. Loehle said Arabia Alliance is still figuring out some of the details of the tour.
"But they will be educational tours to enhance the interpretive capabilities of the barn and give people a better idea about the agricultural history of this land," Loehle said.
Link: http://thechampionnewspaper.com/news/local/historic-barn-stabilized/.