Georgia State Park and Historic Site managers receive accolades during recent conference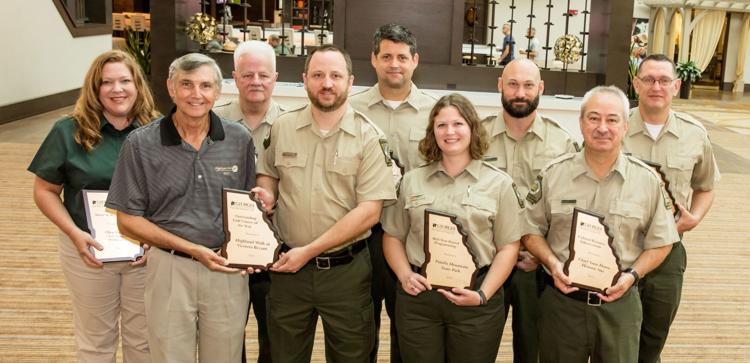 From The Albany Herald.
Several Georgia State Park and Historic Site managers were honored recently during a statewide conference held in Savannah.
Nearly 300 representatives from the Georgia Department of Natural Resources and volunteers gathered for the event hosted by the Friends of Georgia State Parks and Historic Sites. The group spent three days learning how to best operate their sites, including historic structure maintenance, programming ideas, volunteer retainment and marketing.
The conference also included an awards ceremony celebrating the efforts of those who make more than 60 state parks and historic sites outstanding destinations for Georgia's citizens and visitors.
Henry Struble Manager of the Year Award: Bryan Gray, Stephen C. Foster State Park, Fargo;
Most Outstanding Site Operation: Vogel State Park, Blairsville;
Above and Beyond Award: Ellen Graham, chief naturalist, Clarkesville;
Best Year-Round Programming Award: Panola Mountain State Park, Stockbridge;
Customer Service Award: Robin Glass, Manager of Roosevelt's Little White House Historic Site, Warm Springs;
Natural Resource Enhancement Award: Cloudland Canyon State Park, Rising Fawn;
Cultural Resource Enhancement Award: Chief Vann House State Historic Site, Chatsworth;
Outstanding Golf Course of the Year Award: Highland Walk at Victoria Bryant State Park, Royston;
Gray recently volunteered to be DNR's onsite incident commander at Seminole State Park during Hurricane Michael cleanup. He fosters an atmosphere of creativity and excellence, leading the way for Stephen C. Foster to be designated as an International Dark Sky Park. He has also helped several employees develop into successful managers at other parks.
Vogel hosts 250,000 campers, hikers and vacationers annually. The park added new campground bath houses, a playground, outdoor fitness area and accessible parking this past year. Vogel's team also earned praise for its financial management.
Graham leads the programming efforts for Georgia's park system, including training workshops and large, statewide annual events. This year revamped Georgia's Junior Ranger Program to include 59 site-specific activity books and badges.
For three years she has served as the national coordinator for First Day Hikes on New Year's Day. She also participated in DNR Leadership Academy and National State Park Leadership School in West Virginia.
Panola Mountain offers more than 30 ranger-led programs and hikes each month, including creative twists such as glow-in-the-dark archery. Their adult summer camp includes sleeping in a tree canopy, kayaking and canoeing, bouldering, fly fishing, archery and open-fire cooking — all packed into two days.
One of metro-Atlanta's most creative Fourth of July programs includes watching area fireworks from atop the park's granite mountain.
Glass and the team at Roosevelt's Little White House make impressions for their 60,000 annual visitors, including many from across the nation. Their story-telling and enthusiastic tours transform historical facts into a walk back in time, helping visitors appreciate President Franklin Roosevelt's love for Georgia.
They present themselves in the pressed uniforms, which are synonymous with state park rangers.
Cloudland Canyon's staff and volunteers work with Save Georgia Hemlocks to combat woolly adelgids and additional conservation groups teaching trail maintenance. They are improving butterfly habitat by adding pollinator plants and native grasses to a meadow, plus protecting wood lilies with small fence borders.
A recent land purchase has re-established access to Bear Creek and additional trails along the canyon. The park's interpretive center has been recently remodeled as well.
Protecting a 215-year-old Cherokee mansion and farmstead has been a priority for Chief Vann House's leadership and volunteers. The large project included wood replacement, mortar and brick repair, front and back porch floor replacement, window repair, pressure washing and painting of the house. Farmstead work included chimney stabilization with period-correct timbers at the Little Scarecorn cabin and log replacement at the Sugar Creek cabin.
The 100-year-old Bardford Barn is also undergoing work. Officials said future improvements may include interpretative signage with Cherokee translations and river cane planting.
Highland Walk Golf Course staff works to improve guest experiences, recently expanding fairways and creating "no cut" zones. They also hosted a 7-AAA area tournament with 83 golfers from 14 teams, as well as a DNR employee/retiree outing.