Designers Turn Their Eye to Historic Arabia Mountain Building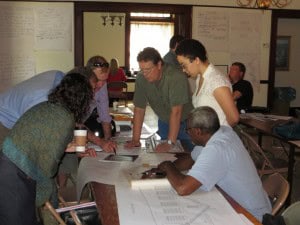 As part of an annual service project, more than 20 design professionals including architects, landscape architects and interior designers, studied the historic 1929 building and its connections to the community. They were looking to celebrate the building's significance while inspiring connectivity, growth, and development in this small quarry town.
The Woman's Club was DeKalb County's first library and has been an important gathering place for civic groups and a social setting for citizens for generations.
The highly-collaborative, community-centered process led to a comprehensive document that the city of Lithonia and the AMNHA can use to rehabilitate the building and its surroundings. In all, designers donated more than 400 hours of time through community meetings, design charettes, and final recommendations. They took their cues and inspiration from club members, neighbors, city officials, and the NHA. 
To reflect the overall vision, the interior plan includes storytelling elements such as a bank of mailboxes to store and share memories as well as a permanent exhibit space, and large areas for community gatherings. The proposed exterior modifications better connect the LWC with the Main Street of Lithonia, allow access to the multi-use hike-bike PATH, and create an inviting public performance space.  Sustainable practices were not ignored and the rehabilitation could include energy efficient systems and water reuse, removing impervious surfaces, and adding vegetation. 
For updates on this exciting project please check this webpage.