DeKalb News: Exhibit showcases historic black community Flat Rock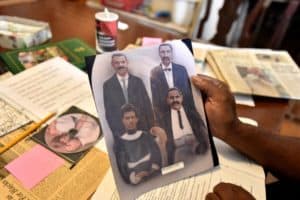 By Tia Mitchell for the Atlanta Journal-Constitution
Artifacts from the Flat Rock Archives, a museum honoring one of Georgia's oldest African-American communities, are now on display at the DeKalb History Center.
The History Center is located in the formerly segregated Historic DeKalb Courthouse in downtown Decatur, and the Flat Rock exhibit will remain for two years. Titled, "Deep Roots in DeKalb: The Flat Rock Story of Resilience," it includes objects collected from residents of the community that showcase its more than 150 years of history.
Flat Rock traces its history back to the early 1800s when it was established as an agricultural community populated by African-American families after the Civil War. This area is now contained in the city of Stonecrest.
The Flat Rock Archives is located in a historic home that was converted into a museum. A family cemetery is within the Arabia Mountain National Heritage Area.
During the two years of the DeKalb History Center exhibit, representatives from the Flat Rock Archives will provide monthly educational programming about the community and its residents.
Admission to the DeKalb History Center is free. The museum is open Monday through Friday from 10 a.m. to 4 p.m. and on Saturdays from 10 a.m. to 2 p.m.
Link: https://www.ajc.com/news/local-govt–politics/dekalb-news-exhibit-showcases-historic-black-community-flat-rock/16XCMTscQo8pyUyeO13dzN/.