6 of Atlanta's Best Bike Trails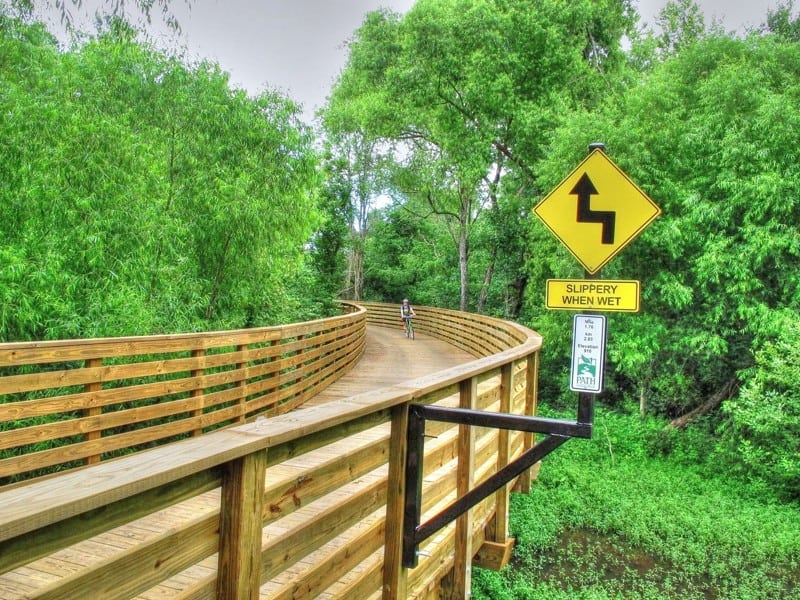 From The Atlanta Journal-Constitution. By Archith Seshadri
The summer months give us a chance to enjoy the beautiful outdoors. What's not to like with bright blue skies, beautiful chirping birds and freshly blossoming flowers? But if you don't feel up for a walk or driving through the streets, you may want to smell the fresh, crisp air by pedaling one step at a time.
Atlanta boasts more than 40 different bike trails when you can bring your own or rent docked bicycles. The PATH Foundation — started in 1990 — manages some of the major bike trails in the city. When it comes to must-sees, check out the mile-long boardwalk through the trees at Mason Mill Park in DeKalb County; explore a bridge through a lake in Panola Mountain State Park; or travel on an expansive bridge over a canyon on the Proctor Creek Trail in west Atlanta.
Here are some of the city's best biking trails to get a scenic venue of Atlanta.
Atlanta BeltlLine
More than a decade old now, Atlanta's BeltLine started multi-use trails in 2008 and offers five trails for a total of 11 miles. If you don't own a bike, you can rent one at Relay Bike Share or Atlanta Bicycle Barn or even the electric generated red bikes. And there's plenty of spots to grab a selfie or that perfect Instagram moment. You could ride on the Eastside Trail. Start at Piedmont Park, stop for a drink at Ponce City Market, ride out to Old Fourth Ward, and grab an ice cream to cool down at Krog Street Market. Feel free to make your way to the Westside Trail; start at Washington Park and meander your way down to the Urban Farm.
Silver Comet Trail
Stretching from Smyrna to the Alabama-Georgia border, the Silver Comet Trail is 13 miles northwest of Atlanta. It is one of Atlanta's most popular bike trails with spectacular scenic views. This bike ride will take you more than 60 miles from Atlanta's suburbs to Alabama, near Cedartown. It connects to the 33-mile long Chief Ladiga Trail and has fully paved rail-trails built on the abandoned railroad lines. You'll get to explore ravines, farmlands, forests and old rail tracks. The combined Silver Comet and Chief Ladgita trails are more than 90 miles long from Smyrna to Anniston, Alabama. If you want to explore the outdoors and traverse through Cobb, Paulding and Polk Counties, this one is ideal. Soon, the PATH foundation says it plans to connect the Silver Comet Trail to Centennial Olympic Park in downtown Atlanta.
Arabia Mountain Path
If you are looking for fast-paced routes, head to this bike path east of Atlanta. Located in Dekalb, Rockdale and Henry Counties, the Arabia Mountain Path, also known as AMP, is a paved biking and hiking trail in the Arabia Mountain National Heritage Area. South Rockdale Community Park has opened 5 miles of biking trails to explore the green spaces. The Arabia Mountain PATH cuts through rock outcroppings, colorful wildflower fields, rushing streams, and towering pines as it makes its way from the Mall at Stonecrest into Panola Mountain State Park. The new bike trails are broken down by beginner, intermediate and advanced levels. Finish up at the Monastery of the Holy Spirit in Conyers or the waters of Alexander Lake in Stockbridge.
Big Creek Greenway
The Big Creek Greenway may be the perfect ride if you live in the Alpharetta and Roswell areas. The multi-use trail along Big Creek starts at Big Creek Park in Roswell and runs to Alpharetta, just off Windward Parkway. The concrete trail runs about 8 miles. It runs parallel to North Point Parkway, starts at Marconi Drive and ends at Mansell Road. The soft mulch trail encircles a wetland area through the trail, and it's common to spot deer, ducks and geese while you pedal down the trail. The greenway will eventually connect North Fulton County to the Forsyth County trail system.
Suwanee Greenway
The Suwanee Greenway is popular amongst runners, joggers and walkers, but you can also cycle this popular path located in Gwinnett County. The bike path weaves in and out of paved trails, extended boardwalks and swampy marshland, presenting lots of opportunities to see a few frogs, turtles or fish while pedaling through the greenway. While crossing Suwanee Creek, explore large wetlands. There are multiple trailheads to provide quick and easy access, perfect for a long ride or even an early morning routine. Situated in north metro Atlanta, extend the route by exploring George Pierce Park on the Ivy Creek Greenway.
Stone Mountain Trail
The Stone Mountain Trail starts at Centennial Olympic Park, navigates to Piedmont Ave. in downtown Atlanta, along the Freedom Parkway trail and ends at Stone Mountain. The 19-mile trail also has some on-street travel for about four miles from Candler Park through Clarkston. As bikers pedal from downtown Atlanta through the eastern suburbs, some riders stop at prominent sites such as the King Cener, the Carter Center, Fernbank History Center, downtown Decatur, Stone Mountain Village and Stone Mountain Memorial Park.