Do you like super, duper activities? Are you enthusiastic about a fantastic prize? Join us in the Arabia Mountain National Heritage Area for our first Junior Ranger Day!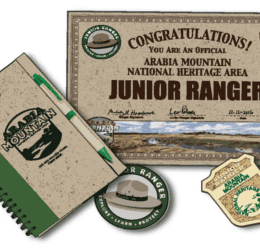 The Arabia Mountain Heritage Area Alliance teams with partner organizations to offer some amazing experiences for kids at the Panola Mountain State Park Nature Center. When the youngsters complete these activities using our new Junior Ranger Activity Journal, they will be the first group in the metropolitan area to earn a snazzy Junior Ranger Badge.
With space limited to 100 kids ages 8 to 12, register now for our Junior Ranger Day!  Great memories will last a lifetime.
For more info, contact melody@arabiaalliance.org or 678-642-0680.