Top Three Fall Adventures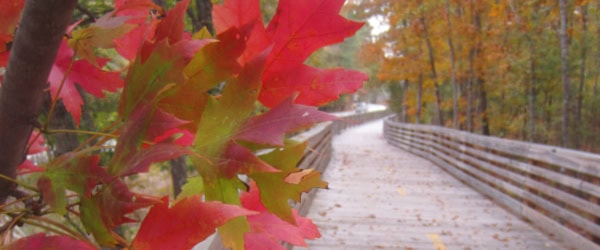 Crisp air and bright red leaves can only mean one thing; fall is finally here!  Come enjoy the season throughout the Arabia Mountain National Heritage Area (AMNHA). Whether you're looking for a quiet place to see the leaves turning, an ambitious bike ride, or a place to get a jump on your holiday shopping we've got you covered.  Check out our top picks for fall fun below to discover where to get fresh local pumpkin bread, see the best fall color, find the perfect spot for holiday photos, and more!
#1 Family Fall Photo Shoot

Capture a beautiful outdoor family photo at these picture-perfect locations! Not looking for a photo op? Make sure to visit these spots anyway; they are also some of the best places to see fall color in the AMNHA.  All professional photographers must follow county and State Park guidelines and permit requirements. Contact the location directly if you have any questions.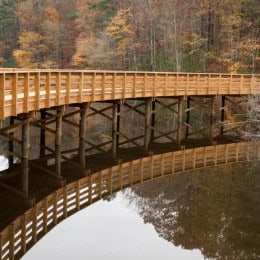 Granite Overlook:  The new granite overlook at Panola Mountain State Park  offers a unique backdrop for family photos. Depending on the angle you could focus on the moss and lichen covered rocks or the tree covered mountain. The overlook is number 16 on the Arabia Mountain PATH map.
Alexander Lake and Causeway: The calm waters of the lake perfectly reflect the trees around it, doubling the fall color! You could snap your picture along the bank or on the curved wooded causeway over the water.
Vaughters Barn: This iconic barn has been stopping photographers in their tracks for years. It sits in an open field surrounded by trees that turn bright red in the fall. Come out early to catch gentle morning light or late in the day for a spectacular sunset shot. The barn is number 3 on the Arabia Mountain PATH map. Remember that no one is allowed to enter the barn.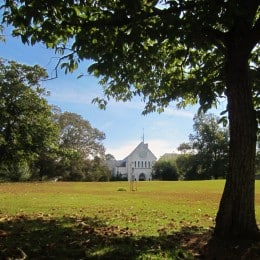 Chestnut Grove: Take your photo under a mature grove of chestnut trees and have the graceful Abbey Church in the background.
Lakeside Tables: Near the Abbey Church, you can find a small lake ringed with trees. Once the leaves turn this will be a perfect place for your photos. Several ducks and geese frequent the lake; be sure not to feed them or they will pester you while you try to get the perfect shot.
Magnolia Lane: The original entranceway to the monastery is now closed to traffic and used as a meditative walking path. This scenic pathway is lined with massive magnolia trees and includes a gazebo that is perfect for family photos.
Davidson Arabia Mountain Nature Preserve
Arabia Mountaintop: With 360 degrees of fall color you couldn't ask for a better photo location. The lunar-like landscape will help your family photo stand out this year! Make sure to dress in layers because the sun can warm the granite quickly, but the wind can be fairly strong at the top of the mountain.
Arabia Lake: The oak trees surrounding the lake light up in fall and provide a lovely backdrop for photos. You can reach the lake via the Forest Trail or Mile Rock Trail and during your hike you could scout out other fantastic photo opportunities.
#2 Get a Head Start On Your Holiday Shopping

There's no reason to go all over town; you can get all the thoughtful and unique gifts you need in the AMNHA!
AWARE Wildlife Center
Atlanta Wild Animal Rescue Effort (AWARE) rehabilitates Georgia's injured and orphaned native wildlife. AWARE is one of the few centers in Georgia that rehabilitates all wildlife species and they are located at the base of Arabia Mountain. Surprise an animal lover in your life by adopting a Wildlife Ambassador in their name! The fee will cover the cost of food and veterinary care for the animal for one year. AWARE's ambassadors are used to teach thousands of people about habitat preservation and peaceful coexistence, so your gift will have a lasting impression.
Monastery of the Holy Spirit
The Abbey Store is a treasure trove filled with hundreds of handpicked gifts! You can find items from all over the world but our favorite items are the ones the Monks make by hand. They work on-site to create fresh baked biscotti, fudge, fruitcake, and a plethora of sweet breads. They even have a new seasonal pumpkin bread which pairs perfectly with their pumpkin spice coffee! The Abbey Store also has a wide selection of Christmas ornaments, nativity scenes, and religious books. If you are looking for something truly one-of-a-kind, visit the Monastery Garden Center and pick out a bonsai. Make sure to check out the current store hours before you head out!
Panola Mountain State Park
The Panola Gift Shop can help you surprise any nature lover!  From outdoor-themed bags, shirts, and hats to children's wildlife books, this store is sure to make holiday shopping a breeze.  The gift shop also has a selection of scented, handmade candles made right in Decatur! If you're not sure what to buy, a Georgia State Parks gift card is always a hit. It can be used to rent bikes, paddle boards, kayaks, campgrounds, or pay fees for guided hikes and educational programs in the park. How else could you fit a whole park in a gift bag?
#3 Break Out Your Bikes

As the weather cools and the trees put on their showy red leaves it is the perfect time to explore the 30+ mile Arabia Mountain Path (AMP). With dozens of historic and natural landmarks you're sure to have an exhilarating ride. However, riding in the fall can present new challenges. Keep an eye out for leaves and pine needles that can become slick and hide obstacles. Autumn weather can change quickly and riders should be prepared with the right gear. Check out the tips below from Breeze for a ride you'll "fall" in love with. 
Layers, Layers, Layers
Once the temperature dips a little, a base layer is a great way to keep warm without lots of bulky outer layers. Designed to be worn next to the skin, the base layer keeps you warm by wicking moisture away from the body. It's important to get a base layer that's close fitting, as it needs to be touching your skin to work properly.
Fits like a…
Glove(s). Your fingers and hands will be among the first parts of your body where you'll notice the change in seasons, so it pays to keep them protected. A pair of thin, breathable full finger gloves will keep your digits warm without overheating. 
Light the way
Reflective clothing or accessories is another good option when riding your bike on those gloomy autumn days. There are lots of products to choose from, so if a Hi-Vis vest isn't quite your style, how about a Hi-Vis belt, reflective cuffs or even LED arm strips? Make sure to have front and rear lights on your bike when cycling at night. Plus don't forget to take them with you even if it's not actually dark when you set off – autumn evenings have a sneaky habit of drawing in quicker than you expect.