The Story Behind Mary Wade's Grave At Arabia Mountain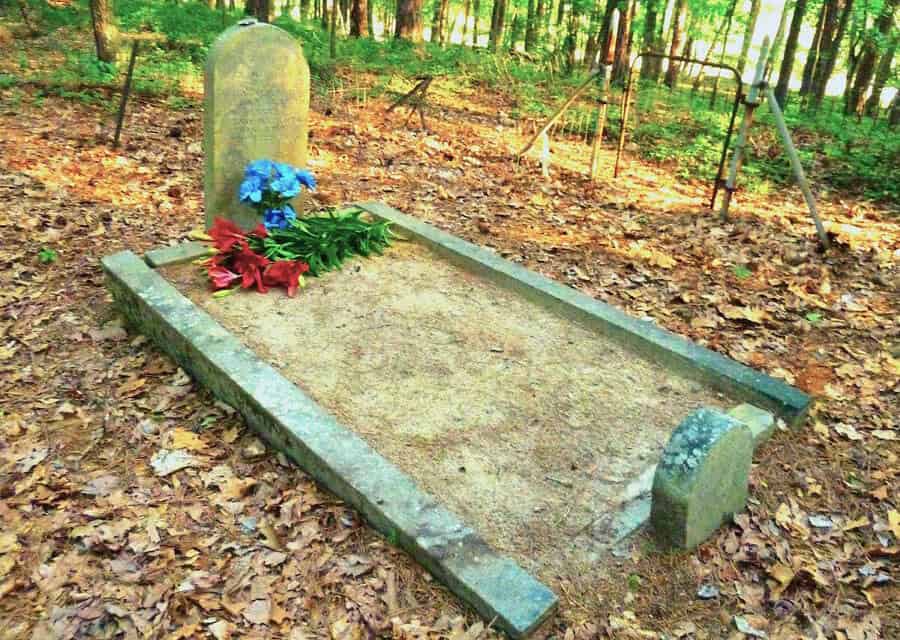 Mary Wade's Grave is nearly 150 years old and recent research into her genealogy connected long-lost family relatives.
Who's been leaving flowers at the historic grave of Mary Wade?
This Saturday, June 10th will be the 170th anniversary of the birth of Mary T. Brantley Wade. It's easy to miss the Mary Wade Spur at Arabia Mountain. En route to the lake, many hikers bypass the trail, which begins just past a spot where the Forest Trail detours around a fallen tree. Those who discover the turn-off are often surprised by the sudden shift in terrain. The half-mile path climbs up a terraced slope, meanders between massive boulders, and emerges in a hilltop clearing at a small family cemetery containing the grave of Mary Wade. Recently, park visitors and rangers have noted fresh flowers appearing on the fenced-off gravesite. Could this be the work of relatives of Mary or respectful recreationists?
The Family Tree
Mary was born in Sandersville, Georgia in 1853. Her tombstone lies on land she purchased from her father, Dr. Levi Gaines Brantley, and farmed for five years with her husband Thomas. It must have been a particularly difficult farm to keep running because the parcels of land the Wades owned were rocky, uneven, and spread widely along both sides of Rockland Road. Sadly, Mary died in 1888 at the age of thirty-five, leaving behind three young children, her daughters Miriam and Effie May and son Grover.
Adjoining Mary's grave are several unmarked plots. No one knows who is buried in them, but the spacing between many stones suggests the deceased were probably infants. Mary may have expressed a wish to be buried alongside them rather than at the public cemetery in town. Surprisingly, up until two years ago, very little was known of the Wade family history after 1912, the year Grover Wade sold off the last of the farm property and moved to the Los Angeles area. Part of the reason for this was a case of mistaken identity. Genealogical sites confused Mary T. Brantley Wade with Mary T. Dennard Wade, the woman Thomas married the year following his first wife's death and who later became stepmother to the Wade children.
Reconnecting Family
Since 2021, online sites like Find a Grave and Billion Graves have updated their information, allowing users to reconnect to the Wade family tree. At least two of Mary's local relatives have recently rediscovered her, including her great-great-granddaughter and one distant cousin descended from Dr. Brantley. "It's becoming more commonplace for visitors to the nature preserve to make a special trip 'to visit Mary,' or to leave offerings of flowers and coins," said Arabia Alliance Ranger Mike Montgomery.
If you're planning to visit Arabia Mountain this weekend, stop by to wish Mary a Happy 170th Birthday!
Source for this article: https://theoutcropper.wordpress.com/2021/05/03/the-grave-of-mary-wade/