Summer Bullseye: Try Out Archery at Panola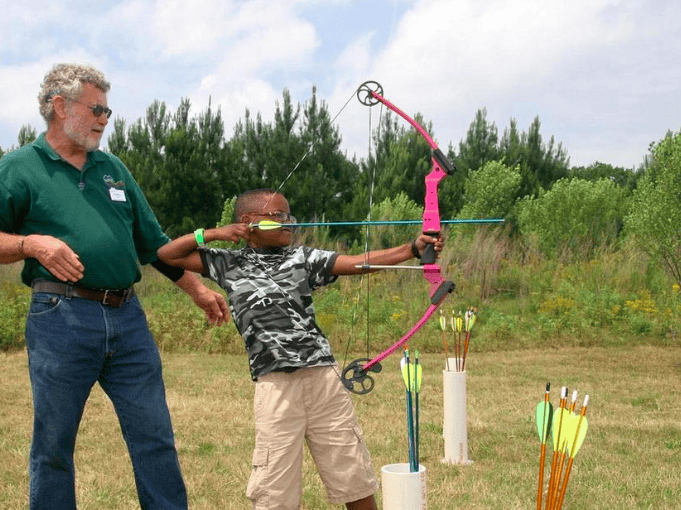 Did you know that you can hone your archery skills at Panola Mountain State Park? The park offers guided archery experiences for people of all levels. Some are outdoors and some are indoors, a great way to escape the summertime heat! Check out our events page for the next archery session.
Explore Panola Mountain State Park
Arabia Mountain isn't the only monadnock (large rock outcropping rising above the surrounding landscape) in the Arabia Mountain National Heritage Area. Panola Mountain, lying just a few miles to the south, is also a monadnock – and, unlike Arabia Mountain, Panola was never quarried. There is one spot on the mountain where people tested for quarrying and quickly realized that the granite on Panola is unfit for quarrying. Whereas on Arabia Mountain the granite could be excavated as either slabs or turned into chicken grit, the stone at Panola splintered upon quarrying efforts. That was good news for the mountain and the wildlife that lives there. Today, Panola Mountain stands as one of the few untouched monadnocks around metro Atlanta and hosts a variety of rare and beautiful wildlife. Panola Mountain's biodiversity and untouched nature has earned it the designation of National Natural Landmark, a site which exemplifies one of the "best remaining examples of specific biological and/or geological features." The National Natural Landmark designation is awarded and administered by the National Park Service.
Due to its highly protected status, Panola Mountain itself is only accessible to visitors if you join a guided mountain hike with rangers and experienced State Park guides. Come see a truly wild Monadnock!
You can also enjoy miles of paved trails, part of the Arabia Mountain PATH, that provides views of Panola Mountain's forests, lakes, and rock outcrops. These ADA-accessible pathways meander through the park and connect to the other resources of the National Heritage Area, including locations as far away as historic downtown Lithonia (in DeKalb County) and the Monastery of the Holy Spirit (south of Conyers). You can hop on Panola's trails – soft or paved – beginning at the nature center at 2620 Georgia 155 SW (Snapfinger Road), Stockbridge, GA 30281.
Note: Panola Mountain State is undergoing dam reconstruction. As a result, both lakes, a portion of the Lake Loop Trail and the campground are closed. Anticipated completion: Summer 2019.
Vaughters' Farm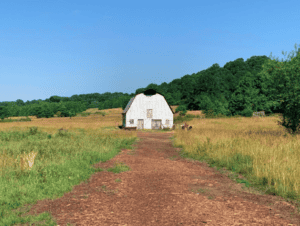 Located to the north of Panola Mountain State Park's main facilities, Vaughters' Farm is an example of DeKalb County's agricultural past. The now-suburban county was once the top dairy producer in Georgia and a hub for dairy production in the Southeast. As DeKalb County urbanized throughout second half of the 20th century, dairyman S. B. Vaughters didn't want to see his land turned into a housing subdivision. "I didn't want that here," he said. Instead, he sold the land to the State of Georgia in 2002, creating a publicly accessible greenspace that today serves as a historical site and wildlife habitat. The meadow loop trail meanders through Vaughters' old dairy fields and is a prime spot for birding and enjoying a peaceful summer breeze. Vaughters' Barn is also a popular spot for photographs (although please note that commercial photography does require a permit from park rangers).
Park at the trailhead at 3366 Klondike Road, Stonecrest, GA 30038. Cross at the crosswalk and follow the paved path towards the barn; the trail begins behind the barn.