Stonecrest's New Black Wall Street Market Celebrates 2 Years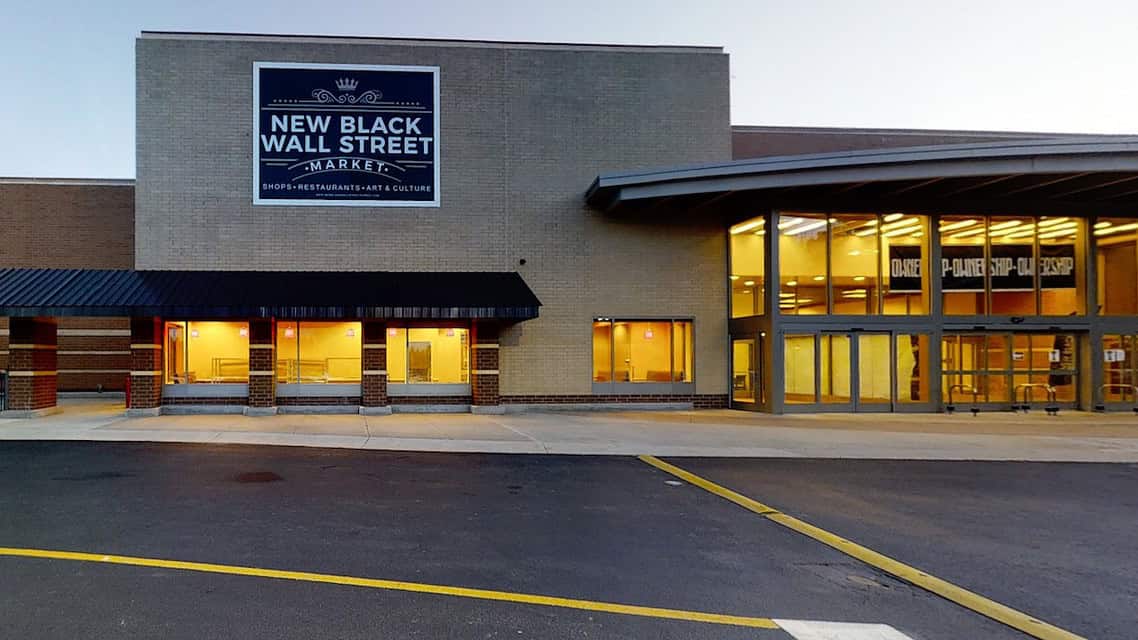 Opened during the peak of the Pandemic, New Black Wall Street Market features more than 100 black-owned businesses and pop-ups plus lots of Black-themed entertainment.

Two years ago, Matt Hampton, Director of New Black Wall Street Market (NBWSM) in Stonecrest, thought the idea was just crazy enough to work. "Something like New Black Wall Street doesn't exist anywhere else in the country, and it's because it's not a bankable business transaction," said Hampton. He's been director of NBWSM, a mall-style mecca of Black cultural offerings and African American-owned businesses that opened on Halloween Day 2021. "Many of the tenants at the New Black Wall Street Market are businesses that were start-ups, or recently started," he said. "Their owners didn't have the credit or experience profile that would allow the developer of this project to refinance the operation." So NBWSM may be a bit of a business risk, but it's served as a huge incubator and booster for local African American entrepreneurs.
Keeping Black History Alive
Located on Mall Parkway just across from the Stonecrest Mall, the acquisition of this large building (formerly a Target) and its renovation into an economic hub were bankrolled by the nearby Allen Entrepreneurial Institute. The Institute wanted to support more minority and women entrepreneurs while also paying homage to the original Black Wall Street in Tulsa, Oklahoma, once the largest concentration of Black wealth in the country. October 2021, the same month NBWSM opened, marked the centennial of the destruction of Tulsa's Black Wall Street during one of the bloodiest and most destructive race massacres in US history. "We wanted to commemorate that the original Black Wall Street was bombed," said Hampton. "And this was a positive response to that, to galvanize and give the Atlanta metro area and certainly Stonecrest the opportunity to support over 100-plus Black business and reemerge with this whole new concrete idea of a New Black Wall Street Market."
There was a lot stacked against NBWSM. The market opened during the peak of pandemic paranoia. However, according to Hampton, pent-up demand and COVID-money worked in NBWSM's favor. "When we opened up we were seeing 10,000 people a weekend," he recalled. "We had 100-percent occupancy, and it was crazy. We've seen a lot of growth and a lot of impact since then."
A Local Business Hub
Just two years later and it's easy to see NBWSM's impact. Open Wednesday through Sunday, visiting NBWSM is like going back to the 1980s or '90s when malls were crowded with shoppers, live music and other fun happenings. In homage to the original Black Wall Street, the market is laid out like a little town or prosperous business district with "streets" instead of aisles that bear the names of African American icons and touchstones such as Madame C. Walker Blvd, Bourbon Street and Greenwood District. Boutique shops selling fine clothing and jewelry and knickknacks abound. Ditto salons specializing in skincare and hair products, esthetician services, delicious sweets and snacks, and even some sinfully good cigars. The mall also includes a ballroom, expo hall, its own Internet radio station, and Art Alley filled with amazing African American art. (Arabia Mountain National Heritage Area fans will spot a wall graphic near the expo hall that looks quite familiar.)
Plans For An International Village
And it's not just shopping. New Black Wall Street has also become an entertainment cultural center for the Atlanta Metro Area. The Pink Lion Jazz Club, located near the heart of the market, features live jazz concerts, theater, standup comedy, jumbo-screened football on Saturdays and Sundays. "It's always a party—it's always banquets and receptions," laughed Hampton. "We knew that in our community we needed more spaces like this. We also have a the community Greenwood Stage that's designed for us to feature nonprofits, church groups and other community events." To that point, NBWSM celebrated its second year with a bigger-than-usual, annual Harvest Festival, including a fully packed weekend (10/27 through 10/29) that featured everything from costume karaoke parties and promenades to food giveaways and even a fall-themed vegan food festival.
The aspirations of New Black Wall Street don't stop in this one former-Target building. Hampton and the Allen Entrepreneurial Institute (where Hampton also works as Director) planned the market as a precursor to a surrounding 200-acre, mixed-use African American community called Black Wall Street International Village. The Allen Entrepreneurial Institute has already purchased this land for those purposes. "This development will serve as a living model demonstrating what other leaders can do in their cities to support and encourage entrepreneurship within communities of color and among women-owned businesses," said Hampton. "Our concept is a dynamic community by African American investors and developers for African Americans in a city that's 98 percent African American," said Hampton. That's the dream—that the New Black Wall Street lives and thrives right here in Stonecrest."