Discover the Lithonia Speedway

The roar of engines and the screams of excited fans filled the air at the Lithonia Speedway, a dirt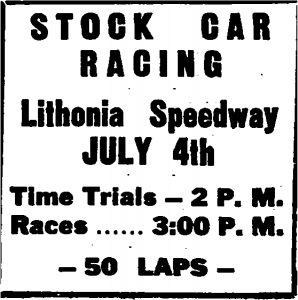 track where drivers raced and people made merry just north of downtown Lithonia. Before the rise of modern NASCAR, segregated racing leagues operated throughout the South, including at the Lithonia Speedway. The Atlanta Stock Car Club hosted a variety of races at the site, including men's and women's races and motorcycle races. Along with racing, the Lithonia Speedway and accompanying Country Club were gathering places for people to enjoy beauty pageants, community events, and music from people like B. B. King and Little Richard. The Speedway and Country Club were a buzzing hub of activity for Black people across the Atlanta area – and the races were often the main event. 
Racing stars tore around the racetrack in their stock cars, including George and Ben Muckles and
Arthur "Decatur Express" Avery in the men's league and Cora Miller, Delphine Lewis and Marian Thompson in the women's league. Civil Rights icon Hosea Williams even raced a Hudson Hornet at the Speedway in the late 1940's. The races were covered in Black newspapers such as the Atlanta Daily World, and a cash prize awaited the race winners. 
The events at the Lithonia Speedway weren't just a local draw: the Speedway and Country Club were a regional attraction, bringing members of the Black community from throughout the Atlanta area and beyond to enjoy the races and have a good time. Buses would run from Black intown neighborhoods such as Sweet Auburn and the Westside, providing safe transport through rural Georgia (the venue was then quite isolated from the city). Event tickets were sold at stores found in those same neighborhoods. 
Although the Speedway is now gone, its legacy remains: the Speedway and Country Club provided an important setting for Black people in the time of segregation and Jim Crow, a place where people could relax and enjoy themselves in safety. The accomplishments of the men and women who raced on the track must not be forgotten either. Today, racing in the U.S. remains overwhelmingly white and male. The people who raced at the Lithonia Speedway were pioneers in the sport and were part of a thriving community of athletes, musicians and everyday people who shaped, and were shaped by, the history of the National Heritage Area.