Racing Proud: Lithonia's Forgotten Racecar History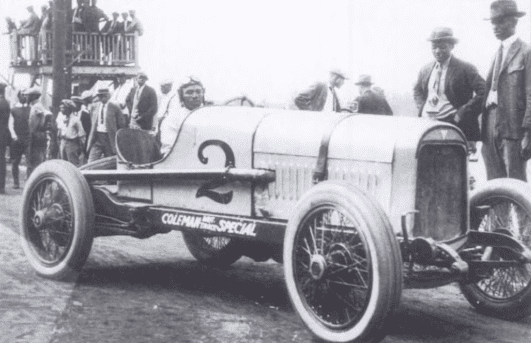 Years before NASCAR existed, black racecar drivers made history on a secluded patch of land in rural Georgia.
The story of the Atlanta Stock Car Club (ASCC) has not been as well documented as other racing organizations, but this group of African-American racers and promoters was active during the 1940s and 1950s. Based out of the Lithonia Speedway and Country Club, a track and performance venue located north of downtown Lithonia, the ASCC organized some of the most popular events for African-Americans in the Atlanta area during that time. Buses would run from downtown Atlanta to the Speedway in order to provide safe transportation for African-Americans to the remote racetrack, without fear of harassment or bigotry.
Stars of the Speedway
Drivers competed in locations throughout the south, with popular stars such as the Muckles brothers (George and Ben), Arthur "Decatur Express" Avery, Joe Daniels, and Charles Scott. These star drivers brought hundreds of spectators to the stands of the Lithonia Speedway. Women drove as well, though in smaller numbers than the men. These female racers included Cora Miller, Delphine Lewis, and Marian Thompson.
More Than Racing
African-Americans gathered at the Lithonia Speedway and Country Club for more than just stock car racing. Each Fourth of July, the ASCC hosted an annual race and beauty contest, with young women competing to be the year's "Miss Stock Car." Contest winners enjoyed hefty prizes, such as an all-expenses-paid trip to a Florida resort. The Country Club hosted musical acts touring on what was called the "chitterling circuit" (also called the "chitlin circuit"), which brought black musicians through the south. Performers at the Lithonia Country Club included James Brown, B. B. King and Little Richard, all of whom got their start on the chitterling circuit.
The rise of the ASCC and its location in Lithonia was tied to the success of African-Americans in Atlanta, particularly with the businesses located along Auburn Avenue. Dr. Benjamin F. Anderson, a dentist educated at Morris Brown College and Howard University, operated a dental office on Auburn Ave. and purchased the tract of land in Lithonia. After Anderson sold his lakeside property in the 1940s, the property eventually became the Lithonia Speedway and Country Club.
The End of an Era
Although the ASCC enjoyed success and popularity for over a decade, it faded into obscurity by the late 1950s for reasons that remain unknown. While the ASCC's limelight has dimmed with time, it had a significant impact on black life in DeKalb County and Atlanta in the mid-1900s. The drivers of the ASCC were pioneers in a sport that today remains predominantly white. This part of the vibrant and resilient history of African-Americans in DeKalb County, as well as their achievements, cannot be overstated.