Primitive Camping at Panola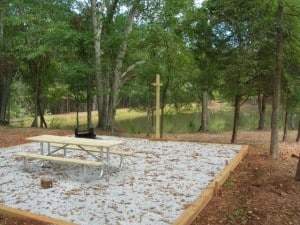 Grab your marshmallows and dust off your tent! Five new camping sites have been created near Scout Lake in Panola Mountain State Park. These sites are currently the only public camping locations within the Arabia Mountain National Heritage Area and they offer visitors a chance to see this special place after dark.
This spot is the perfect place to unplug since there is no power, no cars, and no street lights to interfere with enjoyment of the natural treasures around you. The primitive camping sites can only be reached via a ½ mile hike. The sites do not offer electricity or running water but they do have a composting toilet, picnic table, fire ring, a lamp post, and plenty of peace and quiet.
The sites are not officially open to the public yet but you will soon be able to reserve them at the Panola Mountain website. Once the spaces are open you can reserve them by clicking on the reservation button at the top of the website.