Preservation in Progress: Update on the Lyon Farm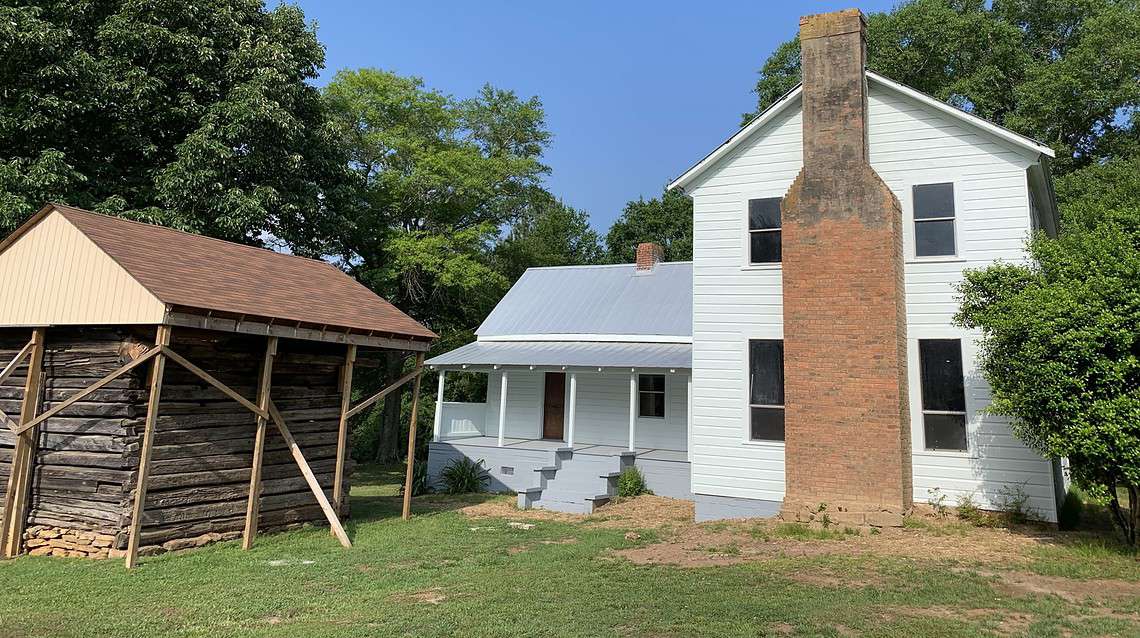 Located in once-rural DeKalb County, the Lyon Farm stands today as a reminder of the area's history and a glimpse into the agricultural lifestyle that once dominated the county. It also is key to the history of Flat Rock, one of the oldest African-American communities in Georgia: people were enslaved at the site prior to the Civil War. Numerous partners have come together for the ongoing project of restoring and protecting this site. After months of work, the Arabia Alliance and our partners announced a successful stabilization of the historic farmhouse, and have now added historic markers to contextualize the property and provide visitors with insights into its history of agriculture and enslavement. 
Arabia Alliance Executive Director Mera Cardenas and Director of Interpretation Sarah Lisle told viewers about the work involved in stabilizing this important historic site at a DeKalb History Center Lunch and Learn event on Tuesday, November 5th. They told a story resulting from years of careful research, archaeology and historic preservation at the site and discussed what the farm might look like in the years to come. 
By the time stabilization work kicked off in autumn of 2018, the Lyon Farmhouse was in bad shape. The structure was in danger of being lost for good, going the way of other outbuildings that once dotted the property. Luckily, contractors and a group of partners, including DeKalb County's Department of Watershed Management, the Flat Rock Archives and the Arabia Alliance, completed the major stabilization as a first phase of making the site available to the public. Cardenas and Lisle talked about that process, including the need to jack and level the building, as well as pointing out aspects of the building that have provided researchers with clues to the history of the family and the life they lived there. 
Over the summer, following the successful stabilization of the Lyon Farmhouse, the Arabia Alliance completed the installation of signage at the Lyon Farm site, along with signs at the Flat Rock Archives. These signs tell visitors about the significance of the Lyon site in the context of DeKalb County and Flat Rock, examining the history of enslavement at the site and its connection to the African-American community of Flat Rock. 
Future efforts at the Lyon Farm site include stabilizing the smokehouse and other outbuildings that dot the site. The Arabia Alliance and partners will also continue to emphasize the rich and complicated history of this landscape, an integral part of the 40,000-acre National Heritage Area. You can discover the Lyon Farm for yourself by walking or biking along the Arabia Mountain PATH (see #12 on the map) and enjoying a walk around the historic property. You can learn more about Flat Rock from the Flat Rock Archives or by visiting the Deep Roots in DeKalb exhibit at the DeKalb History Center.