Pedal The PATH In The NHA: Recap And Biker Highlights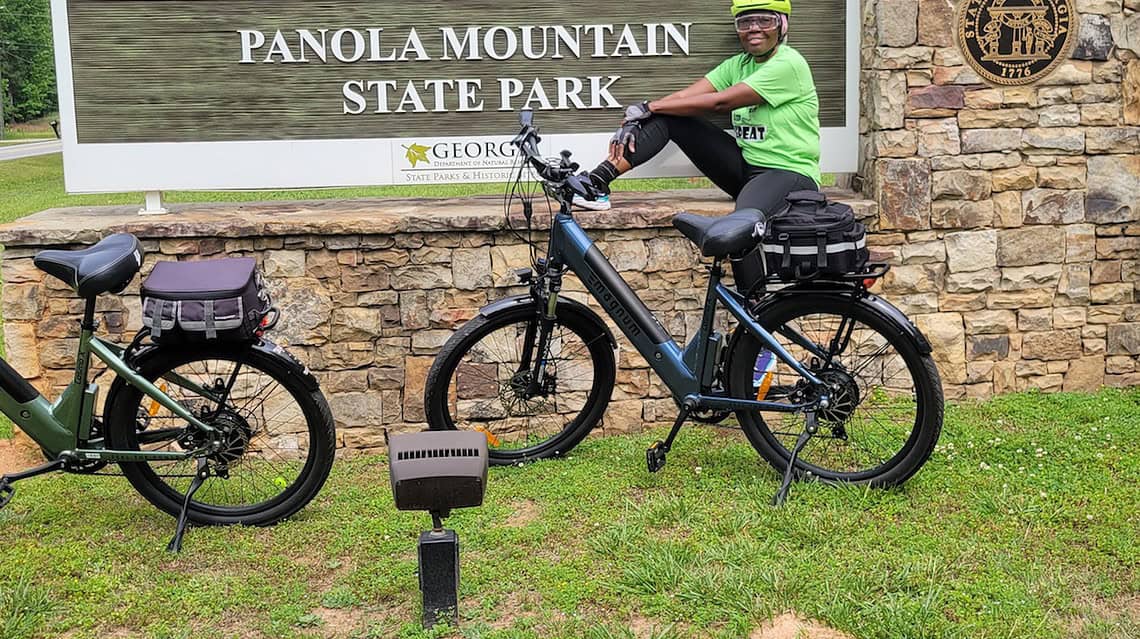 The Arabia Alliance's inaugural spring Pedal The PATH Bike Challenge had 50 registrants, including 16 people who completed either 15 or 30 miles of trail!
The 30 Mile Challenge
There's more than one way to tour a national heritage area. From April 15 to May 15, the Arabia Mountain Heritage Area Alliance hosted Pedal The PATH In The NHA, in partnership with the PATH Foundation and Wandrer. This new biking challenge called on participants to cycle the Arabia Mountain National Heritage Area's paved, trail system known as the Arabia Mountain PATH (AMP).
With more than 30 miles of multi-use trails, AMP links multiple counties and surrounding heritage area sites like Panola Mountain State Park, the Monastery of the Holy Spirit, and the Flat Rock community, among others. The wide reach of this paved, multi-use PATH makes the NHA a paradise for cycling experts and beginners alike, allowing for a long and ever-changing biking experience along rivers and streams, through woodlands and meadows and even over the Arabia Mountain monadnock itself.
Participants were incentivized with prizes: a bike light for those who completed at least 15 miles and a bike repair multi-tool kit for those who completed all 30 miles. Non-cyclists were also encouraged to walk and/or run the trails as part of the challenge.
Recap and Highlights
Although a brand-new event, the Pedal The PATH challenge saw 50 registrants. Out of them, 16 people completed either 15 or 30 miles of trail (around 30 percent). Several cyclists also reached out with comments and feedback regarding their experiences.
"I liked the rides through the PATH system," said Chuck Hancock. "It was a bit technical with all the hills and curves, but it was fun!"
Tansheila Harris went above and beyond by completing all 30 miles in just one day! "I really enjoyed the spring challenge," she said. "The weather was perfect."
Biker Dean Jurecic said Pedal The PATH inspired him and his son to visit parts of the heritage area they hadn't before. "My 12-year-old son absolutely loved this challenge and was determined to get to 30 miles," said Jurecic. "I hope you do more of these in the future. It gave us an opportunity to explore different areas of the PATH trail."
Those who completed 15 or more miles of the challenge can stop by the Arabia Mountain administrative office (3350 Klondike Rd, Stonecrest, GA 30038) on Wednesday, May 31 or Thursday, June 1 between 10am and 5pm to pick up their prizes. Prizes will be mailed the week of June 5 for those who cannot pick them up in person.
The Arabia Alliance plans and looks forward to hosting another challenge of this sort next spring. Suggestions and further feedback are appreciated.