Paddle Down the South River
The South River has seen human activity for thousands of years: Native Americans traded up and down the River and settled along its banks. Today, the South River Watershed Alliance works to educate people about this blue jewel flowing just southeast of Atlanta. We joined a South River Paddle in June to see the sights hidden from foot traffic and enjoyed a peaceful paddle through acres of forest.
We started at Lorraine Park in Stockbridge, ending at Oglesby Bridge Road, just outside of the Monastery of the Holy Spirit's Honey Creek Woodlands. In fact, much of the South River Paddle took place through the Woodlands themselves, giving us a peek at greenspace that is normally off-limits to the public. The South River Watershed Alliance provided boats, paddles and life vests for people who did not have their own gear.
We first headed down to the river to hear about the route and some safety rules from Jackie Echols, Executive Director of the South River Watershed Alliance.
After getting into our canoes and kayaks, we set off down the South River.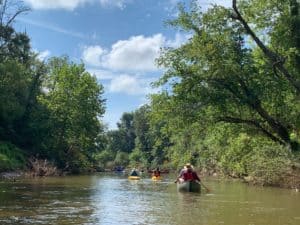 Wildlife abounds on the river. A dragonfly hitched a ride in our boat.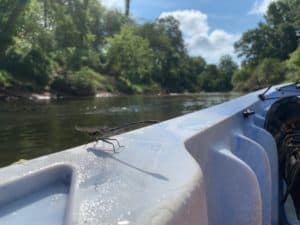 Partway through, we stopped on a sandy bank for a snack and water break. Even though you're on the river, don't forget to stay hydrated!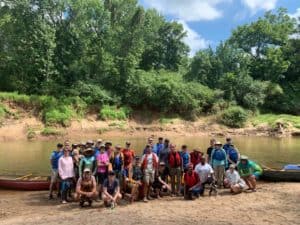 The paved Arabia Mountain PATH crosses over the South River. Over 33 miles of paved trail criss-cross every corner of the Arabia Mountain National Heritage Area and can be enjoyed by foot or on a bike.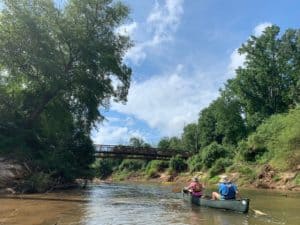 One intrepid canine joined the adventure – look in the kayak and you'll see a poodle dressed in a life vest.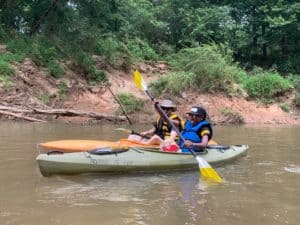 At the end of the route, we all got out on a bank and helped carry the boats to the road. Volunteers drove us back to Lorraine Park from there.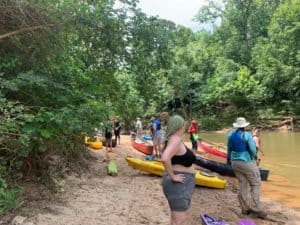 Join the next South River Paddle to experience the beauty of this southeast Atlanta waterway!