Our Picks for Summer Fun in the AMNHA
Nothing says summertime more than climbing a tree, riding a bike, or just exploring in the woods.  We've picked out a few outdoor adventures for you and your family to enjoy.  We hope you find a favorite to enjoy again and again!   
Hike Arabia Mountain  Our classic adventure!  The 200-feet ascent to the top of the granite monadnock is
manageable for hikers, or walkers, of all ages and abilities. Along the way, study the pools of water that host entire ecosystems and see if you can find any brine shrimp. But please, don't jump in the puddles! You'll disturb our signature plant, diamorpha, which is dormant in the summer and looks like small dead sticks.  Notice along the way the walls of rock created by the granite companies that once quarried Arabia Mountain.  Or, play the "Stone Seeker" game with the kids and keep them hunting for gems buried in the rock.  Once you reach the mountain top, appreciate this amazing view. On a clear day, you might be able to make out the Atlanta skyline.     
If you go on your own, park in the small lot at 4158 Klondike Road and follow the cairns to the top of the mountain.  There is also a trail around the lake marked with blue blazes.  Download the trail map before you go or consult the kiosk guide at the mountain base.  Plan at least 90 minutes to enjoy the walk and spend time at the top.   
Visitors can also park at the larger lot north of the mountain at 3787 Klondike Road where there is a nature center.  The AMP bike trail links this lot with the mountain base. Leaving from here and heading behind the nature center, the hikes here are a bit shadier before you reach Mile Rock, a flat expanse of granite.  The nature center is where you can also join Ranger Robby for one of his weekly hikes.  Meet him at 8am on every Friday and Sunday.  Robby chooses the route based on the group and it varies every time.    
Climb a Tree near Alexander Lake.  Your children are primed for laughter with the Panola Mountain Tree Top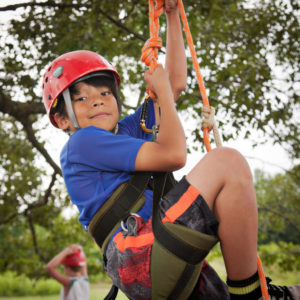 Excursions. They scale a gigantic, 100-year old tree using ropes and harnesses.  Safety tips from a Panola Mountain official leave young climbers with the confidence to perform spins and summersaults in the air.  You will love their aerial poetry.   
Bike the AMP  As you put your wheels in motion, enjoy over thirty miles of scenic trails, boardwalks, and bridges. The PATH Foundation built this paved trail system linking the Historic District of Lithonia in DeKalb County to the Monastery of the Holy Spirit in Conyers.  In between these destinations, you'll encounter historic farms, quarry & mill ruins, rivers, creeks and maybe some wildlife.    
The trail is quite hilly with exciting switchbacks. Be sure to choose a route that matches your ability level.  Family groups will find plenty of adventure by starting at Arabia Mountain or taking the loop around Alexander Lakes at Panola Mountain State Park.   
Hike Panola Mountain at Twilight  Nature is always camera-ready on the most pristine granite mountain in the Southeast.  Discover rare and fragile plants and an intoxicatingly beautiful nighttime sky during ranger-led hikes on the mountain. Reservations are required for this hike, so check out the park's schedule for more details and costs.  Regular daylight hikes are also offered most weekends. 
Encounter wild animals at AWARE  The AWARE Wildlife Center, located at the base of Arabia Mountain, rehabilitates sick and injured animals and returns them to their natural habitat.  Those that can't return to the wild, become AWARE Ambassadors to help us better understand our environment. Current residents include a barn owl, Windy Sue Whoo, a flying squirrel named Stella Luna, and Cat Ballou, a bobcat.  Meet them and others at weekly tours, Sundays at 1pm.   
Hunt for Hidden Treasure  Searching for treasures in the Arabia Mountain National Heritage Area doesn't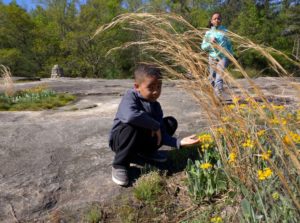 require a metal detector or tiny submarine. Over sixty hidden treasures called geocaches can be found in our picturesque region using a GPS devise or a smart phone. It's part of our very own Geo-PATH tour.  Build your family bonds as you build your child's map-reading skills, appreciation of the great outdoors, and knowledge of geography and local history.  If you'd like to learn more about Geocaching out here, contact us to schedule a custom session for your group, troop, or class.  Several of our caches are also part of the NPS 100th Anniversary celebration are are featured with other parks in a nationwide hunt!
Hone Your Archery Skills If you thought that only folks in movies mastered archery, think again. Give that Hawkeye character from the Avenger movies a run for his money.  A trained professional helps kids to develop their archery skills in the splendor of Panola Mountain State Park.  Lessons are available for the beginner and intermediate level.   
With this list of activities, you're almost set to go.  A cellphone can be handy for geocaching or safety.  Bring lots of water and snacks.  Wear closed-toe shoes. Check the weather, and wear appropriate clothing.  For more information check our hot weather tips.