Welcome to the Arabia Mountain National Heritage Area

The Arabia Mountain National Heritage Area (or AMNHA) spans 400 million years of natural and human history right outside of Atlanta, GA. Whether you're just visiting the area for a few days or a long-time resident who wants to get out of town for the weekend, the AMNHA welcomes you. An otherworldly landscape awaits – with no rocketship required.
Where to Start Your Adventure
 Do you like to explore on your own? Do you want an itinerary before you start? Click the links below depending on how you like to blast off. 

Travel back in time with the Flat Rock Archives and Vaughters' Farm, two sites that preserve the history of this formerly rural area. Step into the peace and reflection of the Monastery of the Holy Spirit. Hike across Panola and Arabia Mountains, barren granite outcrops that are host to vibrant life. Find something new in your National Heritage Area. 
Want some ideas for how to plan your trip? Here's what we've put together: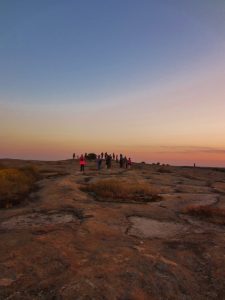 If you only have two hours…
Take a hike to the top of Arabia Mountain. Park in the AWARE lot (4158 Klondike Road, Lithonia,GA 30038) and begin your hike at the trailhead. Once at the top, you can look southwest to see Panola Mountain in the distance. You can learn more about this hike here.
Or, you can step into the past with Flat Rock Archives. Sign up for a tour with Archives President Johnny Waits to learn about the powerful history of Flat Rock, one of the oldest African-American communities in Georgia.
If you have a little more time…
Walk through an untamed Georgia. Take a guided hike with the rangers at Panola Mountain State Park! The only of Georgia's granite mountains that was never quarried, Panola Mountain Rangers offer daytime and nighttime hikes through this wild landscape. 
And if you want more of a challenge…
Bike the Arabia Mountain PATH. Over 30 miles of paved trail criss-cross the National Heritage Area, running as far north as downtown Lithonia and as far south as the Monastery of the Holy Spirit. Foot traffic is also welcome, and your trip can be as long or short as you like. Make a round-trip between Arabia and Panola Mountains, bike along the South River, or enjoy the historic "City of Granite." Happy exploring!

For more ideas, be sure to visit our "Plan Your Visit" page. 
We'll see you on the trails!
Top photo credit: Gaby Mingrone