Need a nature fix but can't get to the Arabia Mountain National Heritage Area? Thanks to a partnership between The Conservation Fund (TCF) and Google Trekker, visitors have a new way to enjoy our captivating landscapes complete with 360-degree views. The result is similar to the Street View option in Google Maps, but instead it maps some of the most important and iconic off-road conservation sites across the country.  
The Trekker itself is made up of a camera, a GPS, a large battery, and a huge-capacity computer drive. The whole setup weighs about 40 lbs. Stacy Funderburke, based in Atlanta with TCF, volunteered to hike with the Trekker. He frequently visits Arabia Mountain with his family and has been actively involved in conservation efforts in the National Heritage Area. Stacy loaded up the gear and set out to document two areas of the NHA: the hike to the top of Arabia Mountain and the Alexander Lakes section of the Arabia Mountain PATH at Panola Mountain State Park. The camera mounted about two feet above Stacy's head took an image every 2.56 seconds to develop digitally seamless panoramic images.  
Arabia Mountain National Heritage Area is an incredible destination for hiking, biking, and exploring, just thirty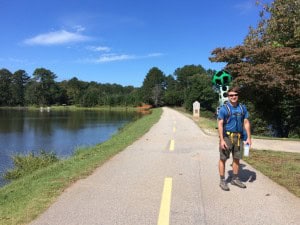 minutes from downtown Atlanta. The expansive granite outcrop of Arabia Mountain, with its unique geology and plant and animal species, is my kids' favorite local hike. I am thrilled that The Conservation Fund's collaboration with Google Trekker allows me to share this amazing natural area with others—I hope their next step will be to come out and discover it for themselves. 
 
—Stacy Funderburke, Southeast Region Assistant, Regional Counsel, and Associate, Conservation Acquisition   
Google Trekker has been used to document other important historic and conservation sites, such as Gettysburg National Military Park, a portion of the Lewis and Clark Trail in Oregon, and the highest elevation hiking trail in eastern North America, North Carolina's Black Mountain Crest Trail.  
The opportunity to create a captivating digital hiking experience for the public was thrilling for the Trekker
volunteers, who were able to bring the public the next best thing. As one trekker volunteer hiker in North Carolina explains, "Of course, nothing compares to actually being there, as a computer screen does not exude the smell of the woods, the sounds of the wind, birds, and life, the ache of the feet, and the exhilaration of the trek." 
 Try out the Google Trekker to revel in the images, then come to the Arabia Mountain National Heritage Area to marvel in reality.