Monastery of the Holy Spirit Tours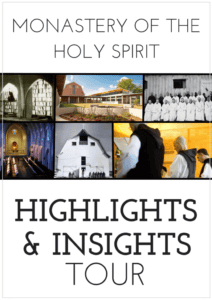 Revel in the profound beauty and history of one of the most magnificent places in Georgia during the Highlights & Insights Tour of the Monastery of the Holy Spirit. 
Let our docents guide you on a remarkable journey through a place filled with purpose. You'll discover a spiritual landscape where Trappist monks live, work, and pray in a community cloistered from the outside world.
Click here to purchase tickets. 
Tours are sponsored by the Arabia Mountain Heritage Area Alliance, a non-profit dedicated to preserving, promoting, and protecting the Arabia Mountain National Heritage Area.