Insider Tips for the Best Hiking at Arabia Mountain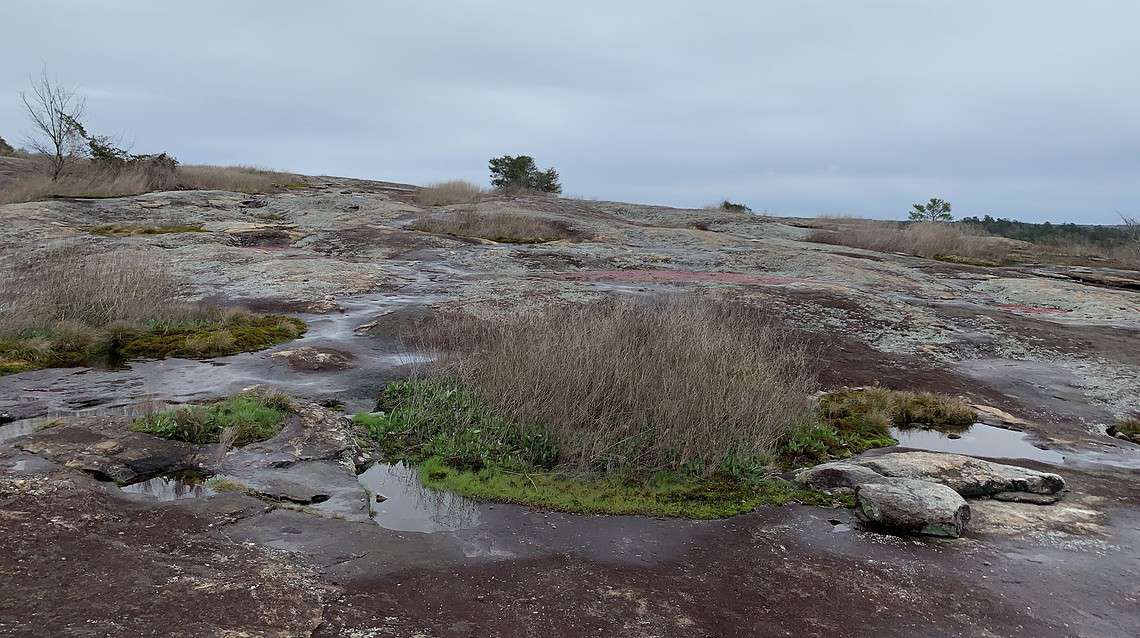 Did you know that Arabia Mountain in Georgia is home to fragile ecosystems and species found almost nowhere else on earth? That includes a variety of rare and endangered plant species like Diamorpha, snorkelwort, and quillwort. These plants live in solution pits (small patches of sand, dirt, and muddy water) that dot the seemingly barren rock face. At various times of the year, the plants that live in the solution pits bloom, covering the mountain with a beautiful show of life! In order to have the best hike at Arabia Mountain and help sustain the natural beauty of our ecosystems and wildlife, visitors should take these simple steps:
"Stay on the Gray." Some trails go out on the bare rock outcrop – stick to the bare granite whenever possible! Lichen and patches of sand, mud, and water appear on the rock face and they can actually be severely damaged by foot traffic. Wherever possible, stick to the bare granite – that way, you can enjoy the flowers that grow out of those muddy, sandy patches!
Leash your dog (and pack their poo)! Our dogs may want to run through and drink from the puddles on the mountain. It's tempting, but please don't! If you keep your dog on a leash, they won't run through the puddles and disrupt the habitat. (If you're worried about water, be sure to bring a small bowl and water bottle in your backpack!). And if your dog poops, please pick it up and take it with you! 
Leave nature as you found it; take only photographs when you go home! Please leave flowers, rocks, and other pieces of nature out in the wild, but if you have trash, be sure to bring it home with you!
Those are the basics of Leave No Trace at Arabia Mountain. Check out this video from Ranger Robby for more info:
To stay connected and to learn more about our "Leave No Trace" campaign please visit www.dekalbcountyga.gov/parks/leave-no-trace-campaign.