Flat Rock Archives Museum Reopens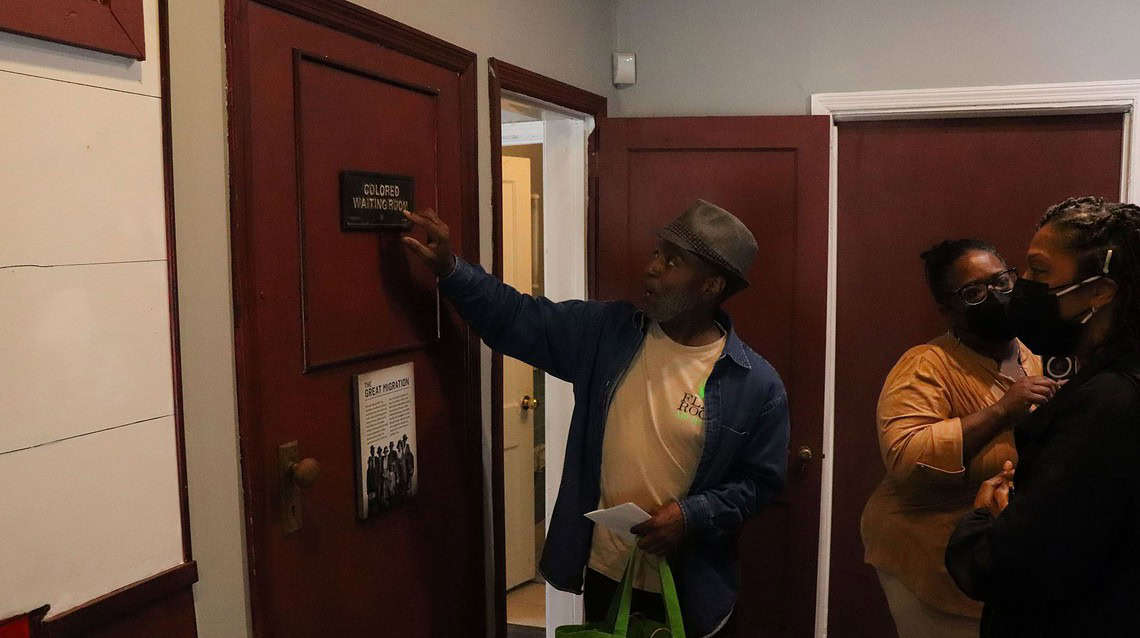 After a long hiatus due to COVID-19 and renovation work, the Flat Rock Archives museum is back open! With new exhibits describing the history of Black life in the rural South and the significance of this historic community, the Archives stands ready to welcome new visitors. You can sign up for a tour of the entire site, including the historic Lyon Farm (where the Flat Rock ancestors were enslaved), the Flat Rock Historic Cemetery and more here: https://www.airbnb.com/experiences/330710.
The Flat Rock Archives is located in the historic home of T. A. Bryant, Sr., one of the first Black people in DeKalb County to own land. Bryant's land ownership was a central part of what kept the Flat Rock community together: as he aged, Bryant sold and leased portions of his land off to other community members. That gave people a literal stake in the South and made sure that this close-knit community stayed together.
On February 26th, the Flat Rock Archives celebrated the reopening with community members and officials, including Flat Rock descendant and football great Warren Moon. Patsy Moon, Warren's mother and a member of the Flat Rock community, could not attend due to health reasons, so event organizers called her partway through the event. She spoke to the gathering via speakerphone and received a round of applause. Other speakers at the event included Congressman Hank Johnson (Georgia's 4th Congressional District), Stonecrest City Councilmembers Mayor Pro Tem George Turner (District 4), Jazzmin Cobble (District 3) and Tammy Grimes (District 5) and members of the Flat Rock Archives board and staff. All speakers highlighted the importance of Flat Rock's history and the value of this historic site in telling America's story.
Arabia Mountain Heritage Area Alliance Co-Founder Kelly Jordan announced the recent acquisition of 3 more acres surrounding the Archives. The Alliance was assisted by DeKalb County District 7 Commissioner Lorraine Cochran-Johnson and the expansion will ensure that the landscape surrounding Flat Rock remains undeveloped. The acquisition also opens up opportunities for the Archives and partners, in future years, to recreate the agricultural landscape that long defined the Homestead. For now, the Flat Rock Archives is excited to be reopening the museum to visitors and bringing Georgia's Black history to more people. 
"It was a wonderful event…The Archives is officially open now, and it's open on Tuesdays, Thursdays, Saturdays and by appointment on any other day," said Johnny Waits, Co-Founder and Executive Director of the Flat Rock Archives. "It feels great to have the Archive open to the public again…We are the only Black museum in DeKalb County, and we are proud of that." 
Explore photos from the event, and of the reopened museum, below: