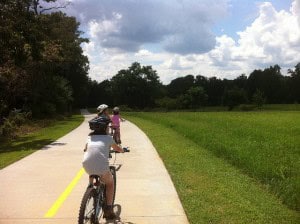 Your summer adventure is waiting in the Arabia Mountain National Heritage Area! Steep hills, stunning views, and a serpentine bridge populate our 20+ miles of paved hike-bike PATH trail. Ready to ride? Our new interactive, self-guided bike tour map will make sure you don't miss a thing. Print the tour map at home or use your smart phone to learn on the go! Use the map to explore our fascinating landmarks as well as find parking lot and restroom locations. Remember that PATH trails are open to everyone including walkers, joggers, leashed pets, and people with strollers.  
After your ride, expand your adventure and join us for one of the exciting summer programs in the Heritage Area. Here is a taste of what you can experience in the next few weeks. 
Wildlife picnic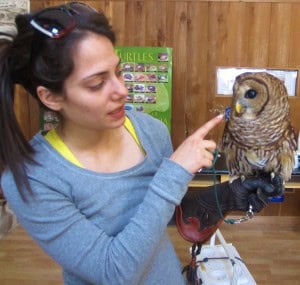 Date: June 9, 2013 11:00am–1:30pm, Cost: Free, Venue: Davidson–Arabia Mountain Nature Preserve
Details: Discover why Arabia Mountain is an important habitat to many local species during this guided hike. After seeing many habitats first hand we'll head over to the AWARE wildlife rehabilitation Center where we'll be given a presentation. To finish off the event we'll have a picnic lunch together. Please bring your own lunch, water, and bug spray.
Date: June 15, 2013 7:00pm–9:00pm, Cost: $5 plus $5 parking fee, Venue: Panola Mountain State Park Nature Center
Details: Learn how to identify frogs by their calls. Investigate wetlands and streams in search of frogs and salamanders. Be prepared to get wet, muddy, and bring a flashlight and headlamp, nets, seines and buckets. Meet at the Nature Center. Register in advance by calling 770-389-7801.  $5 plus $5 parking.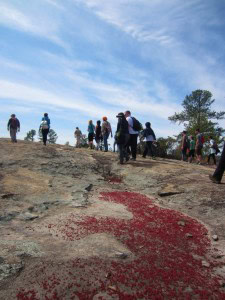 Date: June 21, 2013 8:00am-11:00am, Cost: $15 (bike fee), Venue: Davidson–Arabia Mountain Nature Preserve
Details: Come join us during an unforgettable tour of the Preserve! We'll travel by bike and foot in order to reach hidden vistas during the solstice. We will provide a bike for each participant. RSVPs are required for this event.
These are just a few of the activities going on this summer! Make sure to check out the packed schedule here and kick off your summer with us.