A Look Back At Earth Day In The NHA!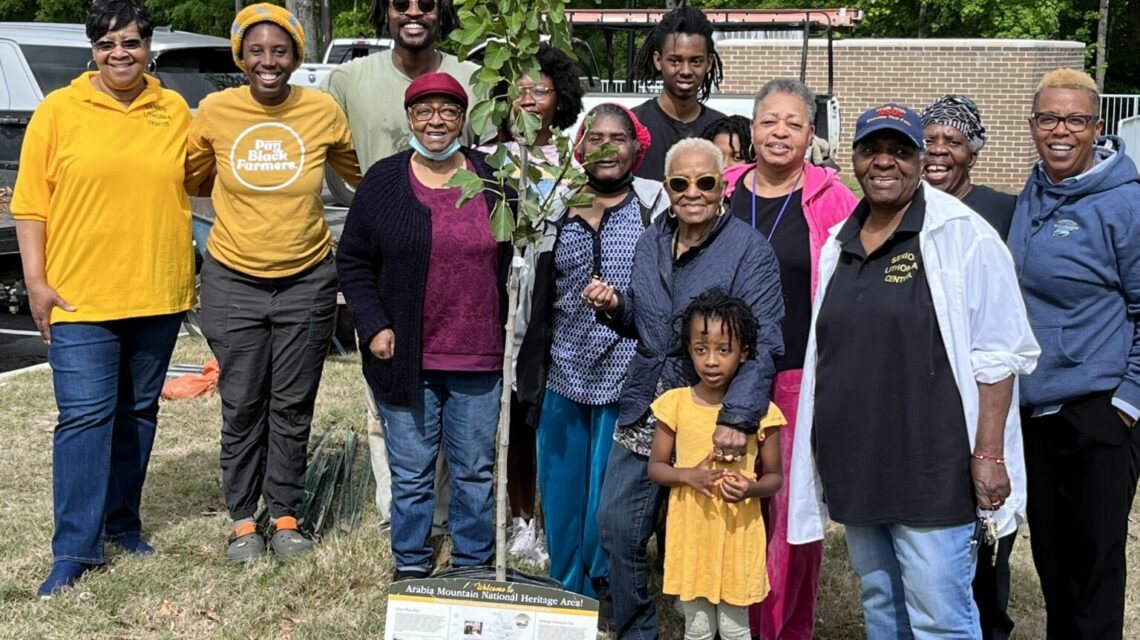 Junior Ranger Day roared back; fruit trees were planted on Bruce Street; and famous author/advocate Audrey Peterman spoke in Stonecrest.
Earth Day was a very big day at Arabia Mountain National Heritage Area! From sun-up to late evening, Arabia Alliance members busied about the national heritage area with multiple events. This year, Earth Day in the NHA included the successful in-person comeback of Junior Ranger Day, a tree planting with seniors at the Dekalb County Senior Center at Bruce Street, and a special Stonecrest Earth Day Summit featuring famed author and National Park System advocate Audrey Peterman. Below is a photo recap of the day's bustle of educational activities and fun (and lots of food!).
Junior Ranger Day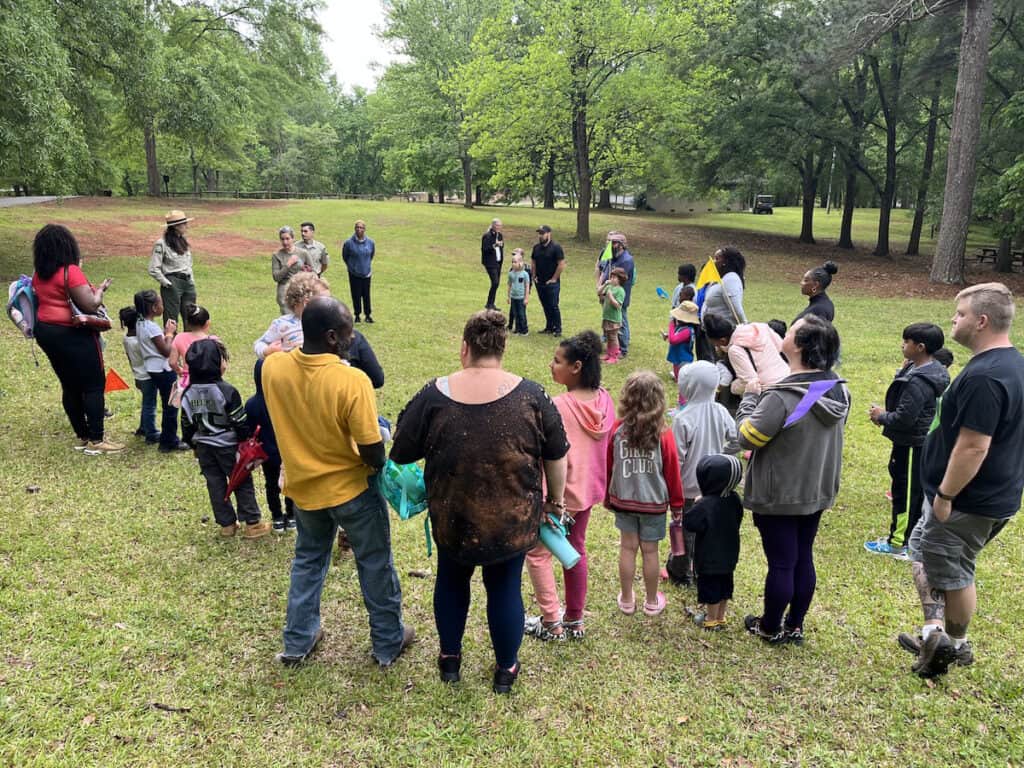 Earth Day marked the first in-person Junior Ranger Day since 2019 because of the Covid-19 pandemic. Junior Ranger Day is a signature event for the Alliance and it kicks off National Park Week. Its comeback was a big success with 42 children of all ages showing up to learn about nature, history and culture from the Alliance's partners including Panola Mountain State Park, the Monastery of the Holy Spirit, AWARE Wildlife Center, Davidson-Arabia Mountain Nature Preserve, and the City of Stonecrest represented by Stonecrest resident high school volunteers. It's never too soon to consider earning your Junior Ranger Badge!
If you missed Junior Ranger Day this year, you can get a booklet and take the pledge from one of these locations: Panola Mountain State Park Nature Center, Davidson-Arabia Mountain Nature Preserve, or the Arabia Alliance office at 3350 Klondike Rd, Stonecrest, GA 30038.
Fresh Fruit Trees On Bruce Street
Bruce Street was graced with some new fruit trees behind the East DeKalb at Bruce Street Senior Center next to the Historic Bruce Street School. The Awali Resource Center (Awali for short), a five-acre veganic homestead and education center situated in the National Heritage Area, donated and planted the trees. Awali Executive Director JoVonna Johnson-Cooke and President Eugene Cooke (a wife-and-husband team) and their three children farmers met with Arabia Alliance Executive Director Revonda Cosby for the tree planting. In all, the Cooke family plus volunteers planted three pawpaw trees, three persimmon trees, three pomegranate trees, two plum trees, and one fig tree. 
Summit In Stonecrest
The City of Stonecrest hosted a four-hour Earth Day Summit at Priví in the Stonecrest Mall. The Keynote Speaker was none other than the inimitable Audrey Peterman, a pioneer in the conservation and green movement since the 1990s and President and Co-founder of Earthwise Production, Inc. an environmental consulting and publishing firm focused on connecting the public lands system with the American public. Perhaps best of all, Peterman wrote about her experience in Stonecrest!
Our ED Revonda Cosby had to rush from Bruce Street over to the Stonecrest Mall not just to catch the event but also to emcee the panel discussion that included some environmental and conservation heavyweights including: Davidson-Arabia Mountain Nature Preserve Ranger Robby Astrove, President of the South River Watershed Alliance Dr. Jacqueline Echols, local landscape designer and urban grower Maurice Smalls, owner of Don's Tree Service Doni Jones, and Viniece Jennings, Ph.D., lead author of articles on green spaces, health disparities and social determinants of health.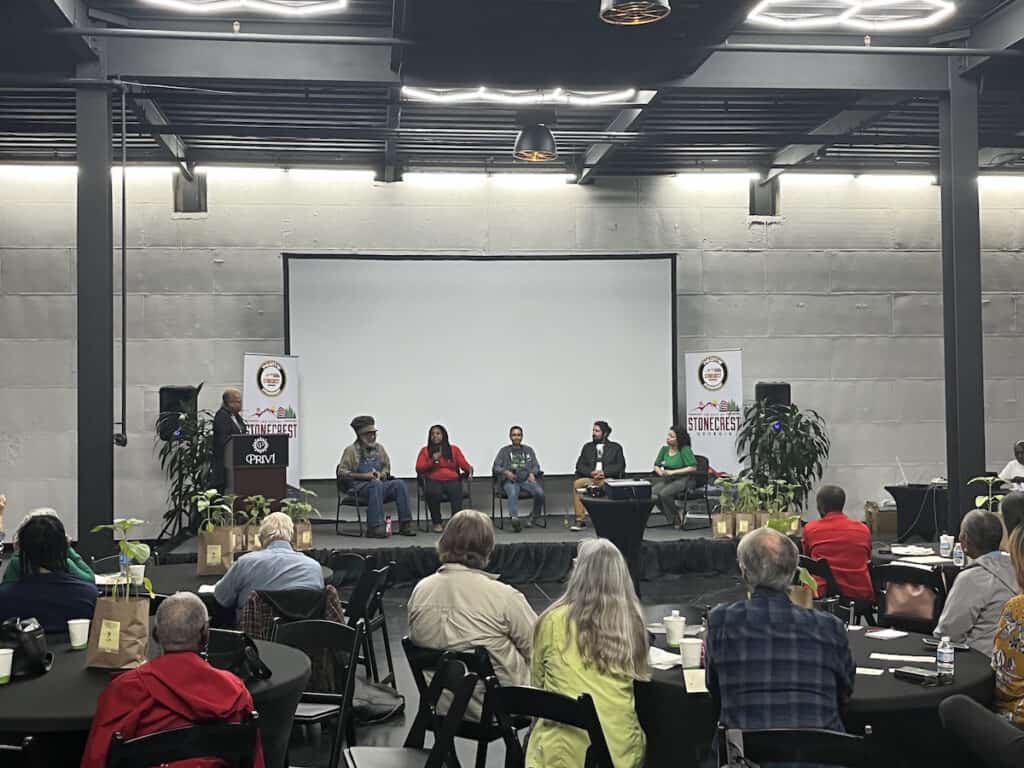 Cosby did a marvelous job moderating the discussion (and she was all smiles when she got a copy of Peterman's book signed by the author). A gourmet vegan lunch was served afterward (yum!) and guests left with free packets of sunflower seeds and already potted young sunflowers, the official flower of the City of Stonecrest. And those who weren't too stuffed from the lunch headed over to Everett Park for a trash clean-up.
Why can't Earth Day be every day?