Even though summer days heat up, we can still get outside and enjoy nature in the mornings. Not only is the air cooler, but many animals are more active in the mornings: hiking in the beginning of the day can give you views of nature you would not otherwise enjoy. Here are a few spots in the Arabia Mountain National Heritage Area that you can see some dazzling dawn views and check out the morning wildlife.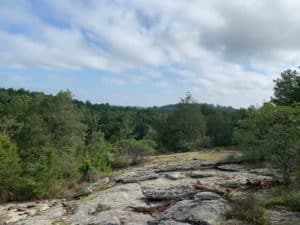 Panola Mountain State Park, Rock Outcrop Trail
This short, peaceful trail lets you see two of metropolitan Atlanta's monadnocks, or large granite outcrops jutting above the landscape. Located by the Nature Center, just southwest of Panola Mountain itself, the Rock Outcrop Trail brings you through woodlands and along one of the State Park's smaller rock outcrops, with views of Panola Mountain and, in the distance, Stone Mountain.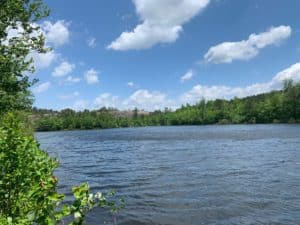 Davidson-Arabia Mountain Nature Preserve, Mountain View Trail
The Mountaintop Trail gets a lot of love – and who doesn't enjoy seeing the rolling, forested hills that surround Arabia Mountain? – but for a quiet morning walk, try out the Mountain View Trail. Marked in blue, the Mountain View Trail (marked with blue trail blazes) takes you away from the well-traveled Mountaintop Trail (marked with cairns) and guides you along the edge of Mountain Lake. This trail will take you through lakeside woods and, in a few spots, opens up to provide views of Arabia Mountain itself.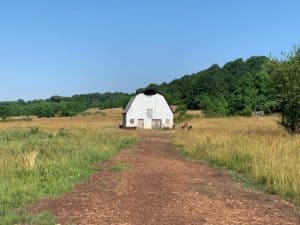 Panola Mountain State Park, Meadow Loop Trail
One of DeKalb County's last remaining dairy landscapes is located in Panola Mountain State Park, on the Vaughters' Farm tract of land in Stonecrest. This now-suburban county was at one point the dairy capital of Georgia, with Vaughters' Farm a part of that sprawling agricultural industry. Today, the land contains both a historic dairy barn and acres of wildlife habitat. Birders can see a variety of grassland birds not often found elsewhere in the Atlanta metro; deer, turkeys and insects make this place their home; and any and all nature lovers and stroll through the Meadow Loop Trail to enjoy this peaceful scene.