DeKalb Beloved Naturalist Program Begins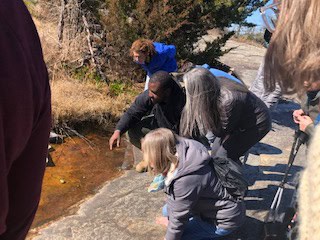 On a quiet Saturday in February, a group of people crowded into the classroom at the Davidson-Arabia Mountain Nature Center. These students are a part of a bold new environmental education: the DeKalb Beloved Naturalist program. Too often, naturalist classes and many environmental fields lack the degree of diversity reflective of the actual community. This program aims to address that.
At Arabia Mountain that day were twenty eager naturalists-in-training, diverse in age, gender and race, united in listening with fresh ears to stories of their environmental heritage. The first of the program's lecturers, Leslie Edwards – author, Ph.D. in geography, and professional educator – started with a look out the window. Bare February trees, empty bushes, a stretch of exposed rock with little to see.
"Do you know how rare this sight is?" Dr. Edwards asked the room. This common DeKalb County scenery is in fact the exception – temperate deciduous Piedmont forests filled once a year with a priceless nutritional bath from dropping leaves, are relatively rare on Earth. A global map of habitat zones proved her right. Only tiny portions of the world hold this unique combination. Even better, DeKalb's temperate deciduous forest landscape has never been scoured by a glacier. Within the first few minutes of the class, the commonplace had become elevated. 
The DeKalb Beloved Naturalist program will continue throughout the year, bringing in a rotating array of guest speakers to instruct the participants on everything from geology to archaeology to ecology and more. The participants will be immersed in the natural landscapes of DeKalb County and gain a deep well of experience with the wildlife and wildlands all around metro Atlanta, as well as critical context for the area's human history and the way that nature and human society have shaped each other here over time. This first session is a soft rollout to a program that will grow bigger with time.
On that first day of class, Dr. Edwards' guided afternoon hike exposed dozens of discoveries on the quarry surface and in the woods. Many ideas came from class members sharing their own knowledge, naming birdsong by ear, and identifying animals seen along the trail. Dr. Edwards highlighted emerging crane fly orchids and other early spring ephemerals already finding sunlight in the mesic temperate deciduous forest edging the granite outcrops. The lecture also included reminders that we seldom acknowledge how rare and special is the DeKalb environment outside our doors – stewardship is a major focus of the DeKalb Beloved Naturalist program.
Dr. Edwards hinted about future lectures from other scientists and leaders, including urban agriculture, indigenous botany, lichens, stream banks, birds, and amphibians. The once-a-month field trips and lectures are sponsored by partnerships with conservation organizations working together with DeKalb County park rangers in concert with Arabia Mountain Heritage Area Alliance.
The excitement around the program is palpable. "I am excited to learn more about urban ecology. Not just seeing nature out there, but recognizing that natural interactions are happening around us all the time. I'm energized by community organizations, like [DeKalb Beloved Naturalist], that focus on connecting citizens to their world by identifying pathways to service and employment in the field," said program participant Elizabeth Stewart.
This initial launch of the DeKalb Beloved Naturalist "program was full right away and we already have a waitlist for next year," said DeKalb Beloved Naturalist Founding Committee Member Lisa Kiely. "I would say that we filled up within a week and a half. It's very clear that there's a strong desire for this kind of thing that's outside of the box, science-based, and allows us to look at how nature and society work together, come together, and how we can learn through nature to be better stewards of our environment and relationships."
Alongside in-person classes, organizers plan to release a series of recorded lectures on subjects such as forestry, archaeology, and more. These classes will be made available to the public following the virtual, live lecture for registered program participants. Organizers are also creating a public-facing resource library of materials dealing with local ecosystems and history. Taken together, these materials create a significant and accessible resource for the public to engage with the natural world. The ultimate goal of the DeKalb Beloved Naturalist Program is to facilitate environmental stewardship in communities across the Atlanta metro, connecting people with the vibrant natural history right in their backyards.
The DeKalb Beloved Naturalist Program is the result of a partnership between staff of AARP; Arabia Mountain Heritage Area Alliance; Atlanta Forest School; DeKalb County Department of Parks, Recreation & Cultural Affairs; Emory University; Gardens for Growing Community; Georgia Audubon Society; Monarch Collaborations & Consulting and South Fork Conservancy. The list of partner organizations continues to grow as this first year of the program progresses.
To learn more, inquire about program participation, or to support this budding effort, people can reach out to dekalbbelovednaturalist@gmail.com. Updates about future sessions will be forthcoming.