Taking care of your own backyard can be a challenge. Now, imagine if your backyard was the Arabia Mountain National Heritage Area. Our volunteers make a great place even better through their tireless dedication. As you read about Tom's effect on the NHA, you might want to become more involved yourself. Learn more about opportunities here and let us know what you can do. 
You may recognize one of our most distinguished volunteers, Tom Smith, from the trails at the Davidson-Arabia Mountain Nature Preserve. Recently, Tom added to his list of accomplishments. In a packed banquet room filled with nearly three hundred community leaders, elected and public officials, and residents, Tom received the CrossRoadsNews 2016 Community Kudos Award. The audience gave him a standing ovation for over sixteen years of repairing and installing soft trails throughout the Nature Preserve and removing unsightly graffiti from Arabia Mountain. At his side for this celebration stood his wife, Killian, a fixture for many of his volunteer initiatives. 
Do you want to know more about the quarry ruins in our National Heritage Area? Join Tom on one of his engaging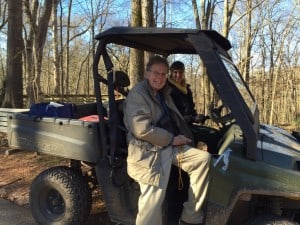 public tours. Do you want to hop down the Arabia Mountain PATH playing a digital treasure hunt? Thank Tom for placing dozens of geocaches that engage and excite visitors. When you attend many of the public events in the Arabia Mountain National Heritage Area, expect to see his friendly face in the crowd. As Robby Astrove with the Davidson-Arabia Nature Preserves states, "What doesn't Tom do around here?" 
CrossRoadsNews produced this video about Tom's work and the effect on the area. Click to hear Tom describe how he developed his strategy to remove over three hundred graffiti tags from the granite walls. 
The Alliance salutes Tom Smith for his distinguished service and support and invites you to join us and Be Like Tom!