Look at the metro-Atlanta monadnocks (the granite mountains of Stone, Arabia and Panola) and you'll see what looks like a mass of barren stone. Look closer, though, and you'll see a rich array of biodiversity, especially when it comes to plants. These seemingly barren mountains are actually filled with plants found almost nowhere else on earth, including diamorpha, granite stonecrop, and the soon-to-bloom yellow daisies.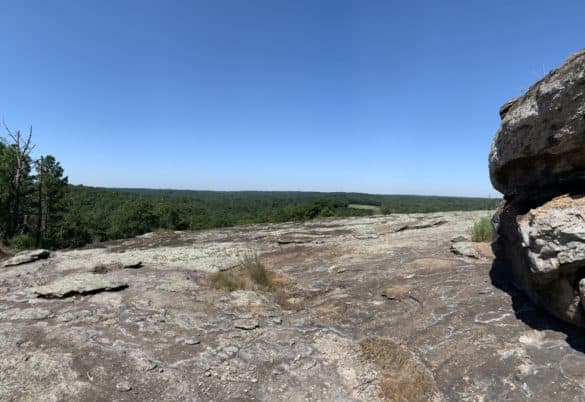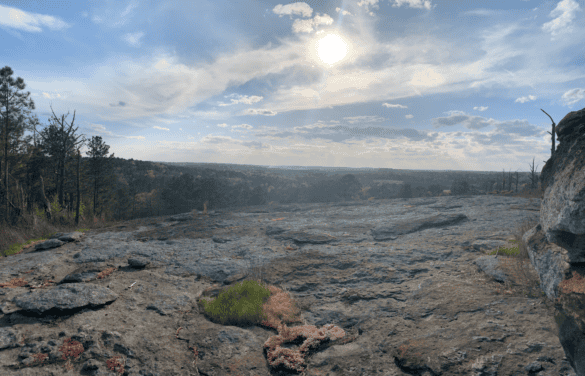 Unlike Stone and Arabia Mountains, Panola Mountain was never quarried due to the quality of the granite there. As a result, this mountain stands as a National Natural Landmark and the pristine home to a variety of endemic plants. Slide your cursor across the image above to see the red diamorpha growing on the mountain in spring, and the lush greenery of summer. 
Soon, we're going to transition to whole new look for the mountains – the daisies are coming! Blooming in fall, the yellow daisies cover the mountainside with an explosion of golden blooms. Patches of dense green stems bear the yellow flowers, creating pockets of vibrant color in the earliest days of autumn. 
Once the daisies fade, the trees will adopt their fall foliage; and by the time the trees have dropped all of their leaves, the diamorpha will begin to grow on the rock outcrop. Different plants have adapted various mechanisms to survive the scorching heat of the bare rock outcrops in summer. Their adaptations result in colorful blooms staggered throughout the year, always giving us something to look forward to when we visit.