AWARE's Wild Night OutSIDE | Join the Fun!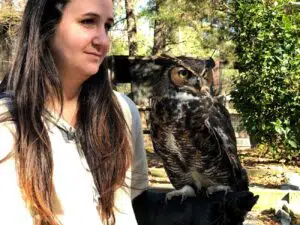 Featuring live music, auction items, raffle prizes, and wildlife encounters, Atlanta Wild Animal Rescue Effort (AWARE)'s Wild Night OutSIDE offers a fun, celebratory bash that supports a good cause.
The event will take place at the Rockdale Art Farm (4420 Flat Bridge Rd. SW, Stockbridge, GA 30281) from 4-7 pm on October 23rd. All of the funds raised will support AWARE's work in rescuing and rehabilitating Georgia's injured and orphaned wildlife.
The event is being presented by the Intown Ace Hardware; the Arabia Mountain Heritage Area Alliance is also a sponsor.
Learn more and purchase tickets at awarewildlife.org/wildnightoutside.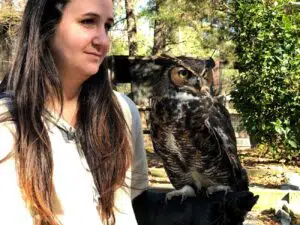 Some of AWARE's "ambassador animals" – including Owlscar the Grouch, seen above – will be present at the Wild Night OutSIDE, letting guests see the animals close up and educating them about the many wild animals that call Georgia home.
Event highlights include live music, drinks – including signature cocktails – and delicious food from the Good Food Truck. Raffle and auction items will also be available; more event details forthcoming.
The entire event will take place as an outdoor picnic in order to ensure COVID-19 safety.
Visit awarewildlife.org/wildnightoutside to learn more about the event.