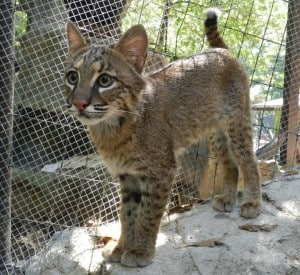 With alert ears, sharp claws, and bright eyes, Savanna is as wild as they come. Her golden coat and graceful movements are stunning to see up-close, but they are also a reminder of the wild existence shes been denied. 
This female bobcat was born wild, but when she was just a few weeks old, humans took her from her mother and tried to raise her.  Savanna was fed the wrong diet and suffered from severe intestinal distress; she was finally surrendered to the AWARE Wildlife Center when she broke her leg.
AWARE's mission is to rehabilitate and return wildlife to their native environments and they often encounter cases of people trying to convert wild animals into family pets. It is illegal to own any native species in Georgia and inexperience and lack of understanding can lead to human and animal injury.
The staff at AWARE tried to reestablish Savanna's natural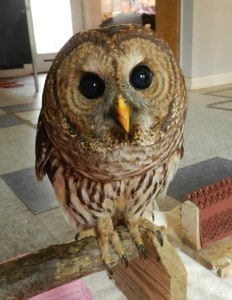 behaviors however; she had no fear of humans dogs so she would have been in danger if she had been released.  Savanna found a permanent home at AWARE and is now one of the center's newest wildlife ambassadors.
She plays an important role in educating the public about living in balance with native wildlife and why it is critical to let wild creatures stay wild. However, she doesn't have to tackle this monumental task alone! She gets help from several other ambassadors like skunks Cleopatra and Marc Antony and Tappy the Barred Owl.
You can meet these and other wild creatures during guided tours of the AWARE Wildlife Center at 1pm every Saturday and Sunday. The Center is located at the base of Arabia Mountain so it is a perfect place to start a weekend hike. On beautiful summer days the parking lot can fill up fast; if that happens you can park at the Davidson-Arabia Mountain Nature preserve and take the raised boardwalk to the Center. The guided tours are free, but volunteers and donations to help care for the animals are gratefully accepted.