400 Million-Year-Old Classroom
"There is this spectacular place right out your door. Why wouldn't you use that to excite students?"  Kathleen Ann Diggs King, Visual Arts Specialist at General Ray Davis Middle, used the Arabia Mountain National Heritage Area (AMNHA) and its partner groups to help her students learn about their community's rich history and to inspire paintings, photographs, and at least one new career choice.
Kathleen first got the idea for this project while watching GPB's Georgia Outdoors program, A Legacy of the Land which featured the AMNHA. She realized that "you can connect Native American history, African-American culture, the life of early settlers, and environmental studies all in one place. There is no need to plan some elaborate field trip when you have all of this in your own backyard."
The students were thrilled with the program and several of them returned to the AMNHA with their parents and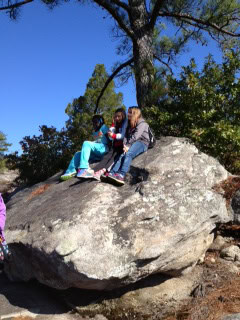 continued to explore.  One student was especially fascinated by Arabia Mountain and has decided to pursue a career as an environmental educator.  After learning about the AMNHA the students were encouraged to create paintings and ceramic pieces which were displayed at the Rockdale County Student Art Exhibit.
You can use the resources below to plan your own field trips within the AMNHA.  Questions? We would be happy to help you learn more!
Links to Resources
Davidson- Arabia Mountain Nature Preserve
2,500 acre nature preserve with rare plant species, glittering lakes, and 8 miles of soft trails. Free group tours and parking.
Flat Rock Archive
Learn about one of the oldest African-American communities in Georgia from a direct descendent! Group tours of a slave holding farm and slave cemetery are available by appointment.
AWARE Wild Animal Rescue Center
See wild animals up close and learn about the importance of native species. The center is located at the base of Arabia Mountain so it's a perfect place to start a hike.
Panola Mountain State Park
This park has been designated as a National Natural Landmark due to its stunning vistas and rare ecosystems. Tours of the mountain must be arranged in advance with a ranger. In a few weeks homeschool programs will also be offered at the park; call to find out more information (770) 389-7801. 
Monastery of the Holy Spirit
Come explore and discover why a group of Trappist monks chose to make Georgia their home. The Heritage Center and Abbey church are inspiring and welcoming to all visitors.