Come See the Solar Eclipse from Here!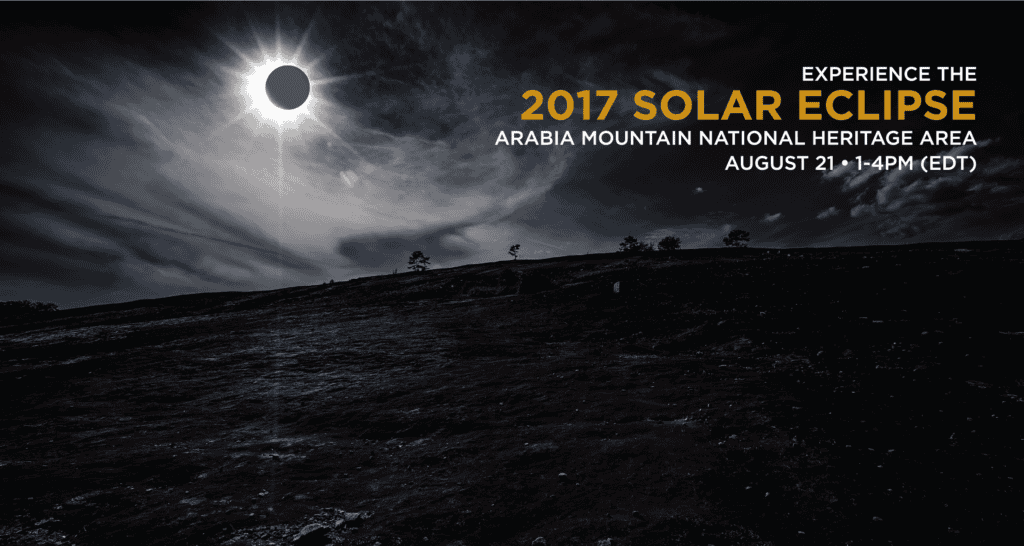 Where will you be during the Great American Eclipse on August 21, 2017? Just east of Atlanta, you can view the solar eclipse in an open, lunar-like landscape of breathtaking beauty, peace and wonder. There are plenty of spots in the Arabia Mountain National Heritage Area where you can catch a glimpse of one of the most remarkable celestial events in our lifetime!
The eclipse will peak around 2:37pm in our area, when the moon obscures 97.2% of the sun. We've put together a list of locations where you can park, explore and take a moment to watch this once-in-a-lifetime event in the National Heritage Area:
If you're interested in viewing the eclipse during a guided hike, sign up for Panola Mountain's Eclipse Excursion at http://explore.gastateparks.org/event/255493. Guides will also be on-site at the Davidson-Arabia Mountain Nature Center to help direct you to areas around Arabia Mountain to watch.
It's important to remember that looking directly at the sun is unsafe so be sure to watch with certified eclipse glasses or solar viewers. Visit NASA's website for more information and safety tips at https://eclipse2017.nasa.gov. A limited number of glasses will be available at Davidson-Arabia Mountain Nature Center and the Vaughters' Farm Trailhead from 1-4pm on August 21, while supplies last.
Want to know what the eclipse will look from where you are? Just plug in your zip code at the following link to get an idea of what you'll see and the time to see it, or find out how far you'll have to drive to see the total eclipse: http://bit.ly/2tG6njO.
Share your story! A picture is worth a thousand words, and a prize! Tell us about your adventure in the National Heritage Area and tag it with #ArabiaEclipse for a chance to win some swag.